Obama lights up Diwali celebrations in White House
Last updated on: October 15, 2009 12:14 IST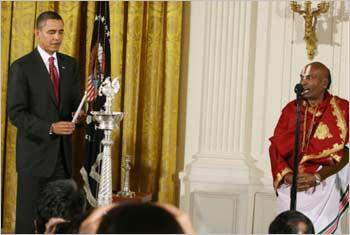 United States President Barack Obama celebrated Diwali in the East Room of the White House on October 14 by lighting a
diya
(lamp) accompanied by Vedic chants by a Hindu priest.
Obama doubled up this ceremony with an event where he signed an executive order to restore the White House Commission and Interagency Working Group to address issues concerning the Asian American and Pacific Islander community.
Over two dozen Indian Americans, including several who serve in the Obama Administration were guests at the event, which was attended by approximately 150 Asian Americans on hand to witness the signing of the executive order but also joined in the observance of Diwali.
Obama sets a new trend on Diwali
Last updated on: October 15, 2009 12:14 IST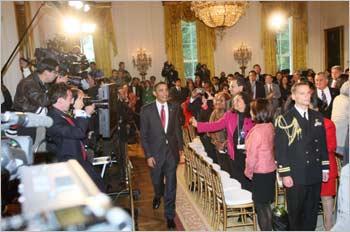 This was the first time in the history of the United States that a sitting President not only hosted a Diwali ceremony but was also present at the function.
Obama's predecessor George W Bush also hosted a Diwali ceremony for six consecutive years, but he never attended a single celebration, instead deputing a cabinet official or a senior aide.
Also, the event was always held in the Indian Treaty Room at the Old Executive Office Building, which is adjacent to the White House, and serves as an administrative office of the White House.
Indian Ambassador Meera Shankar and visiting Commerce Minister Anand Sharma were special guests of the White House at the event.
Sweets and some Masala on offer
Last updated on: October 15, 2009 12:14 IST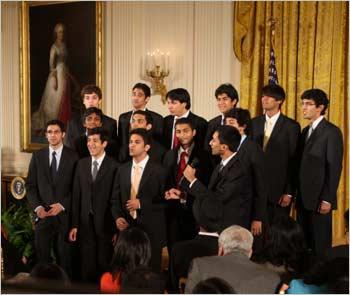 At the venue, on each chair was a small box containing four sweets courtesy of the Sri Siva Vishnu Temple in Lanham, Maryland, and Narayanachar Digalakote, the priest who had the honour of flanking Obama while he lit the
diya
and chanting the
shloka
was also from the same temple.
The programme began with a song by Penn Masala, the world's first Hindi a cappella group formed in 1996 by students of the University of Pennsylvania that combines South Asian music with a Western musical style.
Obama then entered to a standing ovation and after recognising Penn Masala, veteran Asian-American athletes, his Asian-American cabinet members -- Commerce Secretary Gary Locke, Energy Secretary Steven Chu, and United States Secretary of Veterans Affairs Eric Shinseki -- and those Asian Americans who served in World War II, made some extensive remarks about the Asian American and Pacific Islander, AAPI, community and his rationale for restoring the AAPI White House Commission.
'Celebrate the triumph of good over evil'
Last updated on: October 15, 2009 12:14 IST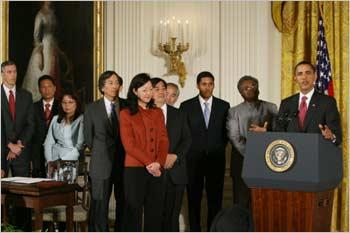 "I think it's fitting that we begin this work in the week leading up to the holiday of Diwali -- the festival of lights -- when members of some of the world's greatest faiths celebrate the triumph of good over evil," Obama said.
"This coming Saturday," he said, "Hindus, Jains, Sikhs and some Buddhists, here in America and around the world, will celebrate this holiday by lighting diyas or lamps, which symbolise the victory of light over darkness, and knowledge over ignorance. And while this is a time of rejoicing, it's also a time for reflection, when we remember those who are less fortunate and renew our commitment to reach out to those in need."
"While the significance of the holiday for each faith varies," Obama said, "all of them mark it by gathering with family members to pray and decorate the house and enjoy delicious food and sweet treats."
The AAPI Commission is restored
Last updated on: October 15, 2009 12:14 IST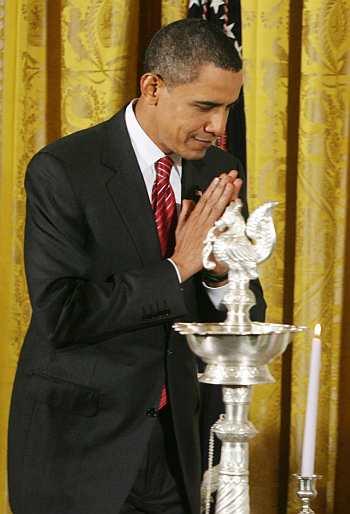 "And, in that spirit of celebration and contemplation, I am happy to light the White House
diya
, and wish you all a Happy Diwali and a Saal Mubarak," he added, to sustained applause.
Then, after returning the namaskar-like salutation from Digalakote, Obama lit the diya, after which he once again returned the salutation from Digalakote, with a beaming smile and then shook hands with the priest.
He then went over to the small desk placed on the stage to sign the executive order restoring the AAPI Commission.
As he was leaving, Obama told the guests, "Enjoy, and have fun," and when a reporter shouted thanks for him being the first President to grace a Diwali ceremony and that too in the White House, the President replied with a smile, "How about that!" and then he was out the East Room doors.
A mantra for world peace
Last updated on: October 15, 2009 12:14 IST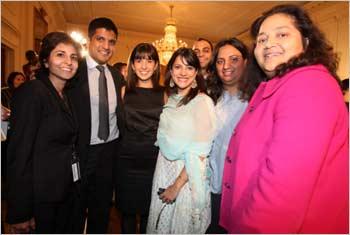 Digalakote told rediff.com that for him it was "such an unforgettable and memorable experience and I was so honoured and blessed to be part of this ceremony."
What he had chanted, Digalakote said, was "a mantra for world peace, where I said, O Lord, please lead the unreal to real and please lead us from darkness and ignorance to the light of knowledge and please bestow prosperity on all of us."
A beaming Shekhar Narasimhan told rediff.com, "This is just so historic. When they (the White House) said, we would like to have a priest chant and we would like you to bring a diya and do this."
"This has never been done before in the White House," he added, gushing. "This is the first time ever that we have had a prayer, of a chanting like this, and a President, who says, 'Yes, I want to invite all faiths in and light a diya, to begin the observance of Diwali."