Chabad House is the closest they can feel to home
Last updated on: November 26, 2009 21:46 IST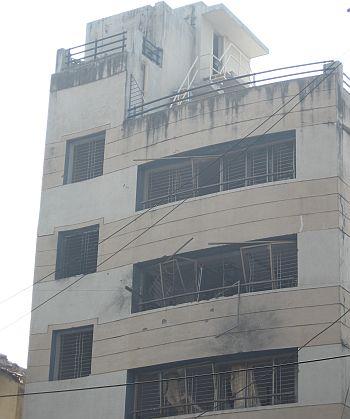 Two Israeli Jews take an emotional tour of the Chabad House, which was targetted by terrorists during the Novmeber 26 carnage, along with rediff.com journalists Prasanna D Zore and Abhishek Mande.
This is Shosh Tzvella's first trip to Mumbai even though she has toured India, especially the northern parts of the country, extensively in the past. Travelling with his friend Sara Vinik, a retired insurance agent, the retired history teacher is hoping to cover southern India during her current trip. But today, they are standing outside Leopold Cafe in Colaba.
"Where is Chabad House," they ask us, looking lost.
Shosh and Sara are Israeli Jews. Chabad House is the closest they can feel to home. We tell them the Jewish outreach centre has been shut since the November 26, 2008 attack. Yet they want to go.
Sara tells us she has never felt safer in any other country as she has in India. It is a warm and hospitable place, she says, and is always looking for an opportunity to visit the country.

However, she feels there is barely any change in the way India works since 26/11. The reaction time to any crisis in India is really long, she says, adding, "I did not feel much of a difference in the security at the airport either."
Waiting for Chabad doors to open
Last updated on: November 26, 2009 21:46 IST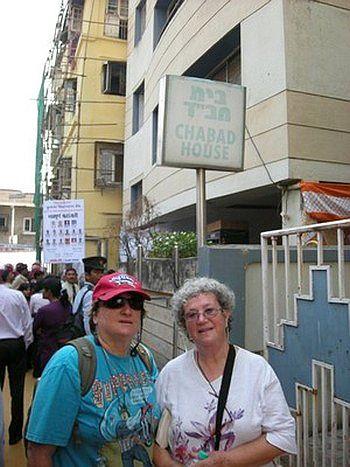 Shosh is quieter of the two. After having retired from her job as a history teacher, she runs a guesthouse in an Israeli hamlet. "It snows there in late December. So by the end of the next month, I will be back home," she says.
Sara, meanwhile, is racing ahead of us walking past Cusrow Baug and Kailash Parbat -- the two prominent Colaba landmarks. Twenty minutes later, we are at the basement of Chabad House along with a huge media contingent, waiting to rush inside with their cameras.
Tempers are flying and the local Jewish community is having trouble trying to control the crowd.
A rabbi has been speaking to various media persons patiently. He is pleasantly surprised to hear someone talk in Hebrew. We are promised a guided tour of the Chabad House; patiently we wait along with the rest of the media.
Finally, the long wait ends
Last updated on: November 26, 2009 21:46 IST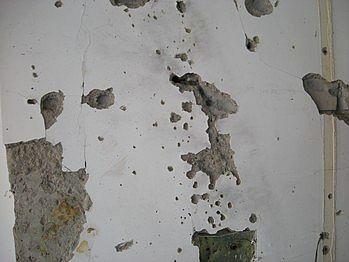 Minutes tick on and Shosh starts getting impatient. Sara, 69, is beginning to feel tired.

She has been on her feet since the time they landed in Mumbai at 5 am on Thursday morning and finds a chair to sit on. She chooses to stick with her Hebrew version of the Lonely Planet than climb four storeys.
Shosh, meanwhile, tells Joel -- a young Jew guarding the entrance -- that she has come from Israel and wanted to see the inside of the House. Joel asks her to be patient. More time passes and nothing happens.

Shosh is beginning to lose hopes too and turns to go away.
Something holds her back and she turns around, with almost dramatic defiance, and stands right before Joel. Someone sees her and asks him to let her pass. We are inside Chabad House.
'A terrorist was killed with a rocket here'
Last updated on: November 26, 2009 21:46 IST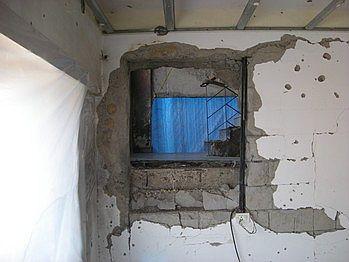 Our 'guide' inside the Chabad House is another young Jew, Samson. Shosh promptly starts speaking with him in Hebrew and Samson looks at her, confused. He mumbles something in response and tells her that his English is much better.
Samson takes us around the Chabad House. The fifth floor of the house is out of bounds. That was the Rabbi's quarters. As we are being taken around the bullet-ridden house, Shosh looks around in disbelief. "A grenade blew up here," Samson points out to the floor. "A terrorist was killed with a rocket here," he goes on, taking us from one floor to another.
Each room has a story to tell, one more harrowing than the other. Shosh is getting goosebumps. "Can I have some water?" she asks finally, clearing her throat.

Unfettered, Shosh wants to see everything. "It must have been war here," she says, looking around at the bullet and grenade marks, and starts trudging along -- her feet somewhat heavy, eyes moist.
There won't be any meals at the House today
Last updated on: November 26, 2009 21:46 IST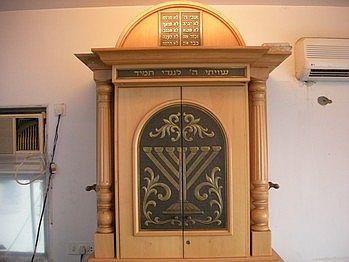 As we reach the basement again, Shosh settles down in a chair next to Sara. She says, "Like all Israelis, I too went to the army and have seen some very unpleasant sights. But this one is really terrible. I cannot believe it happened."
Sara says, "Had it been open we would have been staying at the Chabad House. If not we would have at least had a meal here."
After a few moments of silence both get up to leave. There won't be any meals at the House. Today, all it can offer is a bottle of water and memories to carry back.