Security forces, Naxals face-off in Lalgarh
June 19, 2009 16:36 IST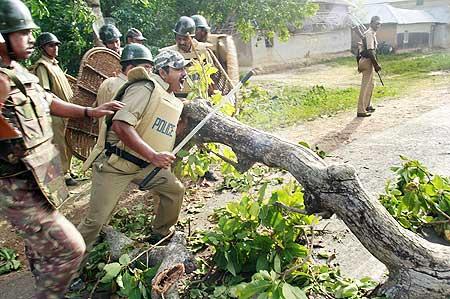 Two hundred personnel of the specialised anti-Naxal force, CoBRA, on Friday began sanitising the Jhitkha jungle as security forces proceeded towards besieged Lalgarh in West Midnapore district.
As Jhitka jungle is a Maoist-dominated area en route to Lalgarh, where Maoist-backed tribals are in control, security personnel are waiting for the Command Battalion for Resolute Action to clear their way of possible landmines, a senior police official told
PTI
.
While the forces covered the 10 km distance from Pirakata to Pirakuli, another team of security personnel drove out from Sarenda in adjacent Bankura district in a pincer movement towards Lalgarh to cut off the escape routes of the Maoists, the police officer said.
IAF choppers drop leaflets
June 19, 2009 16:36 IST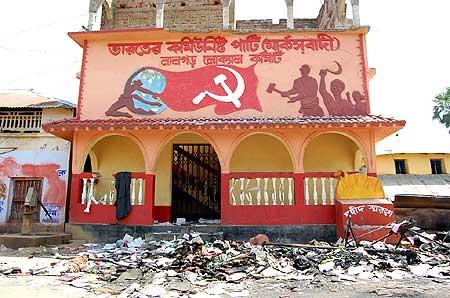 The security forces used mine detectors to sweep the roads before driving ahead in heavy vehicles. An IAF helicopter made a sortie over Lalgarh -- where Maoist leaders, including a key functionary Kisanji, are believed to be holed up -- dropping leaflets asking the people not to allow themselves to be used as human shields. 

The tribals under the People's Committee Against Police Atrocities blocked the passage to Lalgarh by felling trees and digging up roads and blowing up a bridge at Binpur, 12 km from Lalgarh.
Roads at Dahijuri and Dherua were dug up and trees felled to obstruct the advance by armed police and Central security forces, while a bridge over a river at Binpur was blown up, the police official said.
'Lalgarh must be a liberated zone for tribals'
June 19, 2009 16:36 IST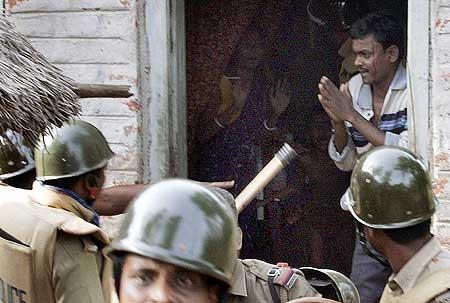 Chhatradhar Mahato, convenor of the People's Committee Against Police Atrocities, told rediff.com on Friday that PCAPA was ready for talks with the state government. "However, if the government resorts to violence, we will put up an equal if not a stronger opposition."
In an interview to rediff.com on Thursday, Gour Chakraborty, the CPI-Maoist's spokesman put forth the Maoists' demand for Lalgarh.
"We want the entire Lalgarh to be a liberated zone for the tribals. We want them to have a democracy of their own, a democracy that will be guided by a new and free economy," Chakraborty said.
'State govt must apologise to tribals'
June 19, 2009 16:36 IST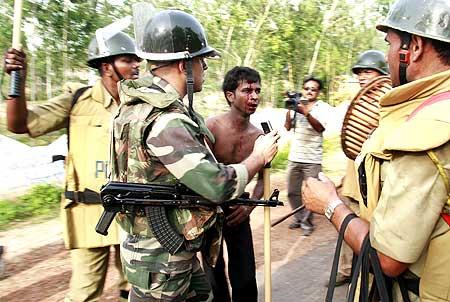 "We have three-point demands: Central and state forces must be withdrawn from the entire jangalmahal; the state government must officially apologise to the tribals for its torture and misbehaviour and it should immediately put an end to police atrocities," he added.
The security forces planned to set up base camps at Goaltore, Salboni and Jhargram, besides in Pirakata, he said.
A team from the Kolkata police led by Joint Commissioner of Police Ranbir Kumar reached Jhargram to oversee law and order there as the people fleeing Lalgarh would head for the town.

Another helicopter has been sought for evacuating injured security personnel to hospitals.
'Operation will go on till all Maoists are cleared'
June 19, 2009 16:36 IST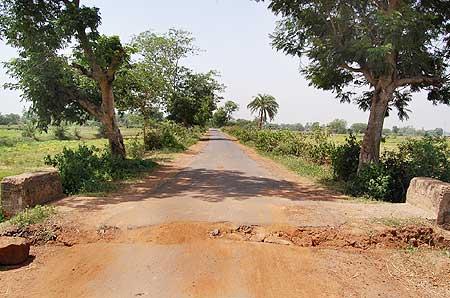 Meanwhile, Kisanji warned the police not to enter Lalgarh, which was echoed by PCAPA leader Chhatradhar Mahto. A police official said Kisanji and Mahato's comments indicated either the agitators were scared or they had laid a trap for the security forces.
IGP (Western Range) Kuldip Singh told PTI, "The operation will continue till all Maoists are cleared from Lalgarh."
The IG (Western Range) said, "So far, five companies of CRPF, two companies of State Armed Police (SAP) and one company of BSF have been deployed to clear the road to Lalgarh."
'Maoists using women & kids as shields'
June 19, 2009 16:36 IST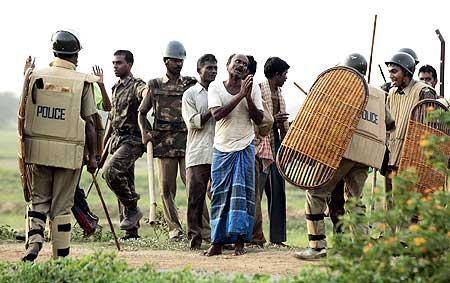 A senior police officer said, "We want the least bloodshed since the tribals are using human shields. We will use lathis, teargas and rubber bullets for dispersing mobs."
"The Maoists are keeping women and children in front, while they position themselves at the rear of the human shields," he said.
"Our primary target is to cut off the Maoists from the people," he said.
Sources said the Naxals, who are now using women and children as human shields to prevent state and central forces from entering the villages, are also heavily armed.
'Top Naxals may not take on the forces directly'
June 19, 2009 16:36 IST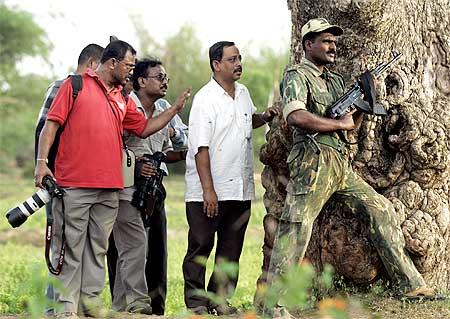 "As per inputs, many of them are carrying AK-47. It is only senior Naxals of commandant level who carry such guns. Even top executive members of the CPI (Maoists) are also present in the area," sources said.
They, however, said it is unlikely that the senior Naxals would stay put in the area and take on the forces directly. "They would most probably withdraw and leave the fight to the local units and the villagers," the sources added.
Central security agency sources said groups of Left-wing extremists, which have taken control over almost 50 villages in Lalgarh, consist not only of cadres operating in West Bengal but also from neighbouring Jharkhand and Orissa.
'Maoists consider WB as a safe heaven'
June 19, 2009 16:36 IST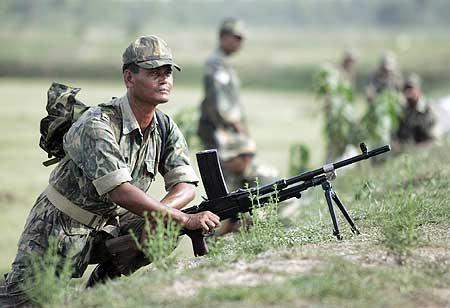 "There are ample inputs suggesting that the Lalgarh operation of the ultras did not take all of a sudden. A slow build up was happening from much earlier. The West Bengal Naxal units are being assisted by the those from the neighbouring Jharkhand and Orissa also," sources said.
Pointing out that there was nothing new in Jharkhand-based Naxals operating in West Bengal, they said in earlier incidents, Maoists after carrying out a major attack in Jharkhand used to cross over to West Bengal, which they considered as "safe heaven".
Contemplating a joint operation
June 19, 2009 16:36 IST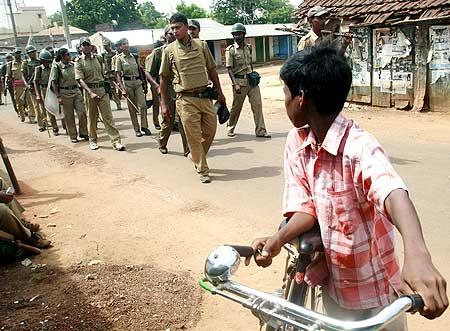 Jharkhand police sources said they have been contemplating the possibility of a joint operation with their West Bengal counterparts for over a year but without any success.
"We know that Naxals who operate in Jharkhand keep moving into West Bengal. We are still hopeful that joint or a coordinated operation could be undertaken to take on the extremists," the sources said.
The Union Home Ministry has already sent a total of 16 companies (1,600 personnel), including an all-women company, to the state to tackle the Lalgarh situation besides about 120 personnel of the elite anti-Naxal force CoBRA.
Centre calls Maoists for talks
June 19, 2009 16:36 IST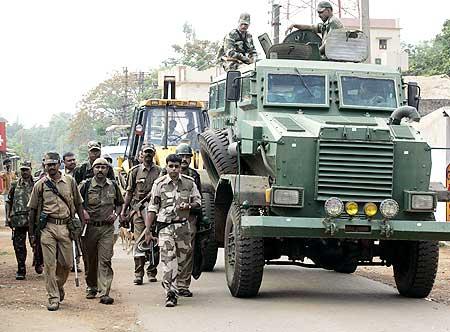 The Centre, meanwhile, has asked the Maoists in Lalgarh area of West Bengal to lay down arms and come for talks.
Home Minister P Chidambaram said he endorsed the appeal of West Bengal Chief Minister Buddhadeb Bhattacharjee to the Maoists and the tribals to come for talks.
"I endorse that appeal. If they wish to talk, they should come forward to do so. We will be happy to facilitate the talks," he told media persons after a Cabinet meeting in New Delhi.
The Home Minister said the ongoing operation by police and paramilitary personnel in Lalgarh would take more time and the forces should expect the "unexpected".
'Operation of this kind will take time'
June 19, 2009 16:36 IST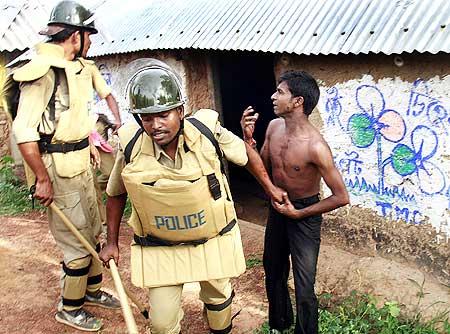 "Progress will be slow. They (forces) are making progress. ... So far, the operation is going according to plans but they must be prepared for the unexpected. I sincerely hope that with the kind of action we have advised, the operation will be successful.
"An operation of this kind will take some time. In fact, it will take considerably more time than was anticipated," he said when asked about the situation in Lalgarh.
He said the forces were "moving and moving cautiously" and the ongoing operation was not against the tribals but only against the Naxalites.
AGENCIES