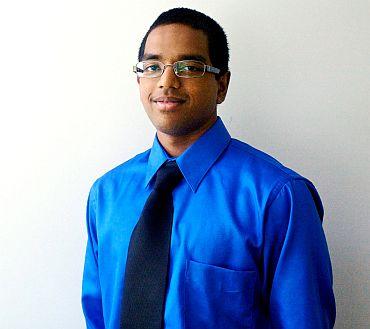 Brought to the United States as the infant son of illegal immigrants, Yves Gomes is fighting to be accepted by the only country he calls home. Sandip Roy reports
Like thousands of young Americans, Yves Gomes started college this semester. But few of his new classmates realised that Gomes almost didn't make it.
Though he sounds like any other American teenager, 17-year-old Yves is not American in the strictest legal sense. His parents, immigrants from India and Bangladesh, were never able to regularise their status in the United States.
Yves was 14 months old when he came to the US. And he has spent his entire life living in the shadow of his parents' uncertain status even as they built their lives in Maryland. His brother, born in the US, is an American citizen.
It means he cannot do a lot of things his peers took for granted. He cannot get a driver's license. He wanted to be a doctor, but could not get an internship at the local hospital. He took French for many years, but couldn't go on a class trip to France.
Yves just kept his head down and doggedly pursued his studies, hoping his 3.8 GPA would help him realise his dream of becoming a doctor.
A broken tail-light led to everything unraveling. His father got pulled over in 2008 and the police went through his records. Yves remembers it vividly.
"It was a Saturday," he says. "The police came to the house early in the morning. I remember the neighbour's dog barking. I checked the window. There were police in front. And police in the back. My parents were in the next room saying 'Oh my God, they will take us.' My dad opened the door. They asked him for his documents and took him away. That was the last I saw of him."
His mother was given a reprieve to wrap up the family's affairs in the US. But she too was deported in 2009. Since then Yves has been fighting his deportation order.
"My mother wanted to do everything in her power to help me stay," says Yves. "She got me Mrs Cynthia Katz as a lawyer and paid her to keep working on my case even after she left."
Living with his great uncle and aunt's family, Yves has become one more poster child of the DREAM Act -- a legislation that will allow people like him, minors who accompanied their parents to the US without papers, to get a chance to go to college, and legalise their status.
But the DREAM Act, while popular among many lawmakers, has not made much progress though Senator Harry Reid has proposed attaching it to a must-pass department of defense appropriations bill.
Some immigration advocates worry that if it is passed on its own, comprehensive immigration reform will become even harder to pass in Congress. Others fear that without the act, thousands of young people like Yves will watch their American dreams shatter.
"It was punishment enough that one parent had to leave," says Yves. "Then they both had to go. Why would the government want me to leave? I came here as a baby."
Yves had never been to India. He speaks no Bengali. The thought of grappling with a new educational system was terrifying. In the US he'd kept his GPA up, hoping he could become a doctor. But when his final appeal was rejected he felt he had reached the end of the road.
His flight was supposed to leave on a Friday. Yves remembers he just could not get himself to pack. "I wasn't making too much effort. I just had a few shirts thrown into suitcases," he recalls.
He says he just put his faith in God and tried to stick to his usual routine. "I spent time in the morning with my family. With my cousin Harold (who has muscular dystrophy)," he adds. "I'd help tutor my friend. Get some food with them. Playing basketball. Just make the most of my time here. I didn't know how long I had."
But he also took his case to his neighbours and community. He says it was not easy telling his classmates because he is not an outgoing person by nature, but after his mother left he had no choice.
"It's not something you are proud to tell anyone," he says. "They were shocked at first. When you hear illegal immigrant you think of someone who has sneaked across the border. But they were all really supportive."
He joined the 'We are America' campaign by the Center for Community Change, allowing them to record his story to press for immigration reform.
He even spoke at his local church. "I was nervous, I don't like speaking to large crowds," he says. "But we passed out fliers asking people to write to the local Congress representative. I was really grateful."
On the Tuesday before his departure date, a television reporter showed up with his lawyer at his doorstep. "My great aunt was flustered because the house was in a mess," he says.
"They said. 'Sit down. It's good news.'" Yves had been granted a rare reprieve by Homeland Security, a two-year stay that would allow him to enroll for classes while his lawyer tried to fix his status.
According to Immigration and Customs Enforcement records, over 380,000 people were deported in the fiscal year 2009. Action was deferred on only 408 people.
"We just celebrated with a bottle of sparkling cider because I can't drink," he says. "Later relatives came from New York and we had a cookout."
For his mother, back in India, the victory was bittersweet. It meant she would have to wait even longer to see him again. She is still adjusting to life in a country she has not seen in 15 years.
She is living with relatives in a small house on the edge of slum, a house that is already full, says Yves. "But she was very happy for me," he says. "She said we will miss you, but she wants the best for my education. She wants to just keep me motivated to work hard."
Yves just started class at Montgomery Community College, Maryland. It's a two-year program and he still cannot apply for financial aid because of his immigration status. He couldn't enroll at University of Maryland because he missed their deadlines. But Yves Gomes is taking his future, one class a time.
"I am still shocked," he says. "I didn't think I would be here with all these other kids. It's nothing short of a miracle. Not too many kids get this opportunity. I have to work harder than anyone else." 
Image: Yves Gomes