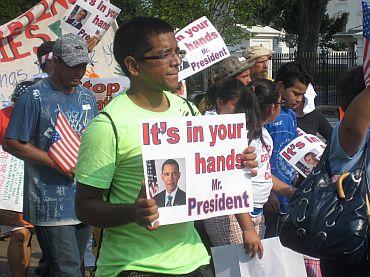 Facing deportation to India, which he had never visited, Yves Gomes refused to worry about the future. Instead he concentrated more on his studies and the present. It paid.
In the end, United States immigration authorities found it hard to deport a young man who took five Advanced Placement classes in his senior year at Paint Branch High School in Silver Spring, Maryland, and graduated with a 3.8 grade-point average. They put on hold his deportation, allowing him to continue his college studies.
Considering that only 408 cases were put on hold in 2009 when 387,790 people were deported, Yves's case becomes significant.
"I feel really happy and thank all who helped me. I am now looking forward to my college days and plan to study biology," Yves, 17, said.
He wants to become a doctor. The immigration officials will revisit his case in two years, but he expects something good to happen by then.
It was a sweet victory for attorney Cynthia Groomes Katz, who represented Yves and his parents, who were deported earlier -- his father Robin Gomes to Bangladesh and mother Cecilia to Kolkata. His younger brother Aaron, 15, is a US citizen.
"Yves came to the US as a 14-month-old child and this is the only country he knows. In addition to his excellent records, he is well liked by his teachers and peers," Katz told India Abroad.
She said, "What distinguishes him from many others is that his parents, who are very resourceful people, provided necessary information though they lived far away. In many cases the parents are not able to provide much help."
Cecilia, who was an assistant professor of computer science at Northern Virginia Community College, is now waiting for a work visa approval. A company has already sponsored her. Aaron can file for his parents only when he reaches 21.
Yves's case was taken by several pro-immigration organizations including 'We Are America Immigrant Stories Project' as a model case to show the unfair nature of the indiscriminate deportations.
Yves was scheduled to be deported on August 13. The reprieve from the Immigration and Customs Enforcement came on August 10.
"I don't label myself as an illegal immigrant. I consider myself American. And I thought about all the thousands of kids who are in same situation as mine," Yves said.
Reports quoted Cecilia as saying that had Yves been deported, he would have had to share a room with three other relatives in a slum neighborhood where he would have been unable to speak the language, faced health risks and had few prospects to pursue his dream of becoming a doctor.
Critics say the Obama administration is deporting more people than the Bush administration. The Immigration and Customs Enforcement is set to deport about 400,000 people this year, 25 percent more than in the Bush administration's last year.
Opponents of deportation point out that most people are deported for violation of immigration laws and few among them commit any crimes.
Image: Yves Gomes at a rally calling for immigration reforms