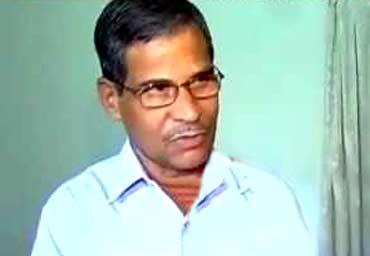 K Unnikrishnan
, the father of 26/11 martyr National Security Guard commando Major
Sandeep Unnikrishnan
, will embark on a unique bicycle journey from India Gate in New Delhi to the Gateway of India in Mumbai in memory of those who who lost their lives during the horrific terror attacks in November 2008.
He explains to Rediff.com's Vicky Nanjappa why he is undertaking the journey:
"I was approached by a man called Hiralal from Kanyakumari. He told me we need to do something for the persons who lost their lives during the attacks.
Tell me, how many of us remember the martyrs of the 1971 war? I do not want the same thing happening in the case of the 26/11 attacks.
We will start our journey at India Gate and it will end in Mumbai on November 26.
For me, cycling the distance will not be a problem. Cycling has always been my passion and when I was told that we need to do something like this, I was only too keen. Members of the Bharat Jodo Andolan, Delhi, will be part of this journey.
This journey is exclusively in memory of those who lost their lives in the attacks. In addition, we will spread a message to conserve nature.
During the ride, we plan to plant several trees and also urge people we meet to do the same.
We will ride four hours in the morning and four hours in the evening. At the end of the day we will interact with local people and school children. The idea is to instill confidence in them.
There is this feeling that the country is going down the drain. We don't want the youth to start thinking in this manner since the future of the country is in their hands.
This is not about my son Sandeep and neither will I try to convince people to join the army. I will answer questions about Sandeep only if people ask me about him.
About joining the army, I don't think one needs to be a soldier to join the army. The decision to join the army is an individual choice and should not be instilled.
On November 27, I will be at the Taj Mahal hotel at the same spot where my son laid down his life fighting the terrorists."
ALSO SEE: Terror strikes Mumbai