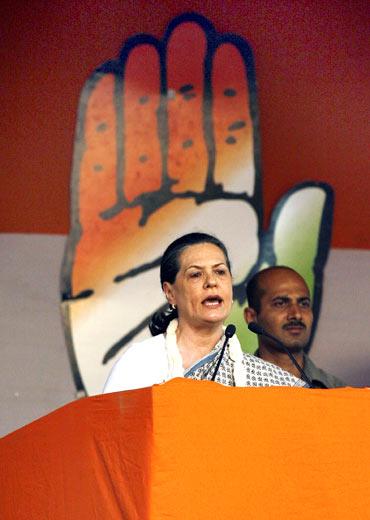 Sonia Gandhi on Friday became the Congress president for the record fourth consecutive term with a message to party colleagues that they should not forget the 'big responsibility' of working for all sections of society irrespective of whether the party is in power or not.

63-year-old Gandhi was declared re-elected unopposed at a ceremony which was attended by Prime Minister Manmohan Singh and host of other senior party leaders.
Thanking the party leaders and workers for bestowing the responsibility on her yet again, she reminded them in a brief address that Congress always stood for all sections of the society and this should not be forgotten.
"Since the beginning, Congress has been working for every section of the society. Whether we are in government or not, we should not forget this big responsibility," she said.
Gandhi, whose crowning glory came in 2004 when the party formed government wresting power from National Democratic Alliance, expressed confidence that her party cadres would always keep the flag of the Congress flying high.
Sonia Gandhi has already set two records -- of being the longest serving president of the party and also completing the longest uninterrupted term (she is the only president who continued to hold the post for more than 10 years).
Image: Congress chief Sonia Gandhi