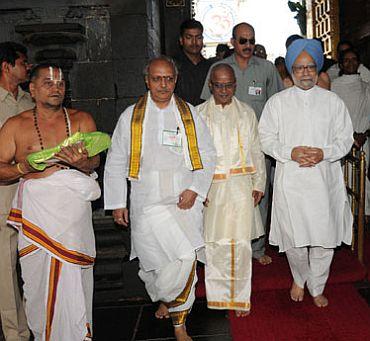 Prime Minister Manmohan Singh on Wednesday visited the Tirupati temple. He went barefoot to the temple and performed circumambulations (walking around the temple) twice.
Steadfastly sticking to the rituals, the PM took a bath and removed his shoes and socks before entering the temple. He performed the circumambulation of the holy dwajathsthambam (flag post) twice.
Incidentally, the personnel of the Special Protection Group accompanying the PM failed to identify state Governor ESL Narasimhan and tried to stop him from entering the temple.
Dr Singh had to point out to the SPG guard that he was the governor of the state. The guard had mistaken Narasimhan for a temple priest, as the latter was clad in traditional Vaishnav attire
SPG chief B V Wanchoo apologised to the governor for the mistake.
Narasimhan had changed into the Vaishnav attire -- replete with three long tilak on the forehead and a veshti (traditional lungi) -- before entering the temple.
Image: Prime Minister Manmohan Singh visits the Tirumala Venkateswara temple during his visit to Tirupati