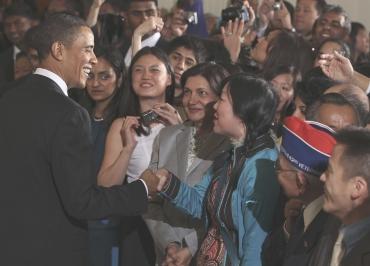 On October 14 last year, Barack Obama had become the first United States President to commemorate Diwali in the White House. He had lit the ceremonial diya in the East Room to the accompaniment of Vedic chants by a Hindu priest. Penn Masala -- the world's first Hindi cappella group formed by Pennsylvania University students -- had performed at the event.
On Monday, the White House witnessed a reception to celebrate Asian American and Pacific Islander Heritage Month, which was marked by the rhythms of bhangra music mixed by the effervescent DJ Rekha (Malhotra).
In his welcoming remarks, President Obama said to loud applause and to peals of laughter, "I want to thank DJ Rekha who's been spinning a little East Room bhangra for everybody -- mixing a hip-hop beat with the sounds of her heritage; making a uniquely American sound that may not have been heard in the White House before."
"But you know, that speaks to the promise of this country -- a nation that welcomes contributions from all people, all colours, all creeds," he added.
Obama said, "We draw strength from the rich tradition that everybody can call America home because we all came from somewhere else except for the first Americans; E Pluribus unum, Out of many, one. And there's no better example of this than the communities that are represented in this room."
An elated Rekha told rediff.com, "It was sheer ecstasy -- I just couldn't believe it. Never in my life did I think that something like this would happen. This is the most memorable thing that has ever happened to me."
"It was in some ways like a dream. I was there in October (for the Diwali function) but this time I got to meet the President for the first time, prior to his speaking. And if that wasn't a dream come true, when he thanked me and mentioned the music that I was spinning, it was just unbelievable, just amazing," she said.
Rekha reiterated, "This is the best gig I've had so far in my life."
During the reception, she said, "I was among the 18 people pulled aside to meet him and take a picture with him. He said, 'Congratulations on your success.' And, I said, 'Congratulations on all of your success,' and he replied, 'I am not doing so bad!'"
Asked how she managed to get the gig, Rekha explained, "When the Diwali event happened, Kal (Penn, actor-turned-associate White House director for public engagement) discussed the possibility of bringing some music, but we couldn't work out the details like the technical part in order to make it happen."
Rekha added, "When I got an invitation for this (event) in the mail, I e-mailed Kal and I said, 'You know, I actually have a way to make it very simple because I figured at a reception it would be more ambience -- you know, not like a full-on dance floor. So I figured a way to bring the gear down and that's how it all worked out."
At the reception, while the guests were mingling and having hors d'oeuvres, "people would come up to me while I was spinning and give me a lot of high fives and thumbs up, and so, I think they were enjoying the music," she said.
Explaining how she chose the music for the event, Rekha said, "I kept in mind the theme of the day, and so I tried to be more inclusive. I included other Asian American contemporary music along with the usual stuff I spin, including some of my own music."
At the outset of his remarks, Obama acknowledged the significant number of Asian Americans and Pacific Islanders who work in his administration, several of whom were present at the event, led by the Executive Director of the White House Initiative on Asian American and Pacific Islanders Kiran Ahuja and other senior White House officials like Chief Technology Officer Aneesh Chopra, Chief Information Officer Vivek Kundra, Counsel and Senior Adviser to the White House Office of Management and Budget Preeta Bansal and Penn, among others.
Obama told the guests, "Your role in America's story has not always been given its due. And many Asian American and Pacific Islanders have known a tremendous unfairness and injustice during our history."
"But we also know that generations of Asian American and Pacific Islanders helped to build this country, defend this country, and make America what it is today," he said.
The President said, "And, obviously it's personal for me, since you need to look no further than my family -- my sister Maya (Soetoro Ng), my brother-in-law Konrad (Ng), and my two mischievous nieces, Suhaila and Savita -- to know that it is part of America's past but is also going to be part of America's future."
"And, for this reason, we are here today to celebrate these contributions. But we're also holding this event because I want to make sure we are hearing from you -- so that the government does its part on your behalf, just as you're doing your part on America's behalf," said the US President.
Obama said this was the reason "I signed the executive order to reestablish the White House Initiative on Asian American and Pacific Islanders. That's why we're always welcoming your input -- from meetings with Sikh Americans to Native Hawaiians."
"We have to respect our heritage as a nation of laws and a nation of immigrants. Washington has an obligation to set clear, common-sense rules, including rules that no longer punish and divide families that are doing the right thing and following the law," he said, adding, "addressing the backlogs problem in our immigration system is an important part of reform."
He vowed to "work with members of both parties to get it done," but acknowledged that "it may not be the easiest thing to do politically, but I also know that it is the right thing to do for our country."
Image: US President Barack Obama greets participants of the Asian American and Pacific Islander Heritage Month event in the East Room at the White House | Photograph: Larry Downing/Reuters