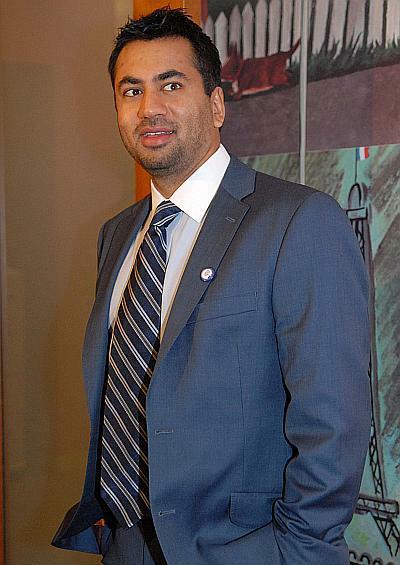 United States President Barack Obama has appointed popular Indian-American actor, Kalpen Suresh Modi, known by his stage name Kal Penn, with the task of connecting his administration with the Asian American and Pacific Islander communities and arts and entertainment groups.
A White House official told PTI that Penn is the only such appointee for the Asian American and Pacific Islander Communities. His designation would be Associate Director in the White House office of Public Liaison.
'They are basically the front door of the White House. They take out all of the red tape that falls between the general public and the White House,' Penn, 31, told Huffingtonpost.Com in an interview posted on its website.
To take up this position, Penn said he will be leaving the popular television show House.
Kal Penn was one of the leading Indian Americans to have campaigned aggressively for Barack Obama during presidential election. Highly popular among the younger Indian Americans, Kal was highly instrumental in getting their support for Obama.
'There's not a lot of financial reward in these jobs. But, obviously, the opportunity to serve in a capacity like this is an incredible honour,' he said.
Born in Montclair, New Jersey, Kal Penn's parents migrated to the US from Gujarat. During Obama's presidential run he was a member of his national Arts Policy Committee.
'I have been thinking about (moving into politics) for a while. I love what I do as an actor. I couldn't love it more. But probably from the time I was a kid, I really enjoyed that balance between the arts and public service,' Penn said.
'I was incredibly honoured a couple of months ago to get the opportunity to go work in the White House. I got to know the President and some of the staff during the campaign and had expressed interest in working there, so I'm going to be the associate director in the White House office of public liaison,' Penn said in another interview to Entertainment Weekly.
Among various films, he has acted in American Desi, The Namesake, Superman Returns, Harold & Kumar Escape from Guantanamo Bay. Some of his television shows include NYPD Blue, House, All About Andersons and Sabrina, the Teenage Witch.

Text: Lalit K Jha in Washington/PTI | Photograph: Paresh Gandhi