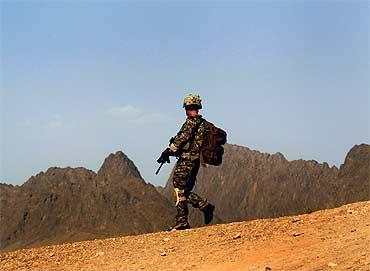 America's Afghan war costs are showing no signs of letting up. And now it has overtaken previous records of Iraq war.
United States' monthly cost of war in Afghanistan has escalated over Iraq costs -- for the first time since 2003 -- a report in USA Today stated. 
Pentagon's Afghanistan spending in February was $ 6.7 billion compared to $ 5.5 billion in Iraq. The military costs in Iraq have always been far greater than Afghanistan, but the trends changed this year, driven by troop increases and fighting on difficult terrain in Afghanistan, the report said.
Pentagon is withdrawing troops from Iraq and adding them in Afghanistan. The cumulative cost of the two wars have surpassed $ 1 trillion, which could further pressurise US President Barack Obama, and the Congress, the report notes.
Obama said on Wednesday that America's role in Afghanistan would remain long after troops are withdrawn, a process planned to begin in July 2011. "This is a long-term partnership," he said while interacting with mediapersons with visiting Afghanistan President Hamid Karzai.
The number of US service members in Afghanistan has risen to 87,000, on top of 47,000 from 44 other countries. At the same time, the number of US service members in Iraq has dropped to 94,000. By next year, Afghanistan is to have 102,000 U.S. service members, Iraq 43,000, the report added.
Image: A US army soldier patrols in a village in Arghandab valley, Afghanistan on May 12, 2010.
Photograph: Yannis Behrakis / Reuters