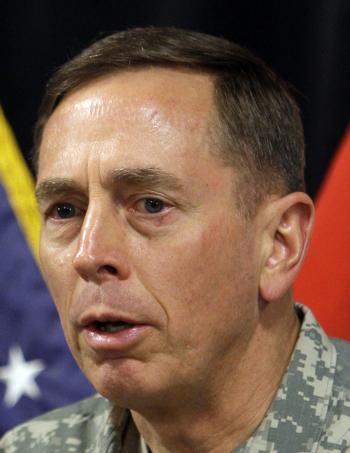 The botched car bomb incident at Times Square in New York City indicates the Pakistan Taliban's ambitions are far expanding, says
General David H Petraeus
, head of United States Central Command, who recently toured Pakistan.
In a comprehensive interview to Council on Foreign Relations, Petraeus says there is clearly a symbiotic relationship between all different terror outfits such as Al Qaeda, the Pakistani Taliban and the Afghan Taliban.
Asked if the attack could jeopardize the increasing military ties with Pakistan, he said, "The attempted Times Square attack, if anything, may strengthen the relationship. In fact, the Pakistani intelligence services quite quickly carried out some operations related to this. It just points out again the threat that potentially may exist between some of these organizations and transnational extremism at large. Al Qaeda, Lashkar-e-Taiba (LeT), and others are very much transnational organisations. The Pakistani Taliban has been much more focused internally, by and large."
The attack, the head of United States Central Command says, is a worrisome indicator as it shows how ambitious the mostly tribal groups in Pakistan- Afghanistan have become.
Stressing that tribal outfits have trans-national ambitions, Petraeus says it has always been about developing an Islamic caliphate for most of such organizations.
"That was certainly one of the motivating factors behind Al Qaeda in Iraq, which of course has suffered some very significant losses in recent months. I don't think it's a surprise that there would be ambitions by these individuals. This is also how they garner resources, and now cyberspace is an area in which they can operate, they can communicate; they can solicit donations and recruits and share tactics, techniques, and procedures; coordinate operations and all the rest of that," he said.
Does that mean they pose greater terror threat than Al Qaeda itself? There are a lot of outfits, he says, out there that again are wannabe international terrorist organisations, because that's how you garner resources.  
Petraeus says despite all the internal struggles, India is still seen as a major threat in Pakistan.
"In fact they've just complete an exercise, some 50,000 Pakistani military forces, similar to the old NATO exercises that we used to run in the days of the Cold War. So there's no question about the image still in their mind of the threat that is posed by India to their security," he told the Council on Foreign Relations website.
Petraeus, however, said Pakistan – the leaders, clerics, people – know the gravity of the threat to the country from outfits like Pakistan Taliban, the Tehrik-i-Taliban and some of its allies.
Image: General David H Petraeus; Photograph: Reuters