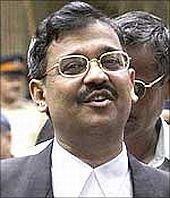 Special Public Prosecutor in the 26/11 Mumbai attacks case Ujjwal Nikam on Thursday expressed happiness over awarding of death sentence to Pakistani terrorist Ajmal Kasab for the carnage, saying the verdict has delivered justice to the families of the victims.
"I am happy about the verdict. The verdict will satisfy the families of the victims," Nikam told mediapersons.
Kasab was on Thursday sentenced to death by a special court for the Mumbai terror attacks, three days after he was pronounced guilty of mass murder and waging war against the Indian state.
Nikam, who fought India's biggest terror attack case, said the 'fair and open trial in the case' has given the message to the entire world that in India everybody, even a dreaded terrorist, gets full opportunity to defend himself.
Speaking on the trial procedure in the special court, he said Kasab, who hails from Faridkot in Pakistan, tried every trick to mislead the court on several occasions.
"He tried hard to mislead the trial... He often resorted to various kinds of dramatics to disrupt the court proceedings," NIkam said.
"He troubled the authorities a lot..Sometimes he would ask for chicken biriyani, sometimes he would tell us that he wanted to tie a rakhi...he used all the theatrics so as to save himself," Nikam said.
Image: Special Public Prosecutor Ujjwal Nikam