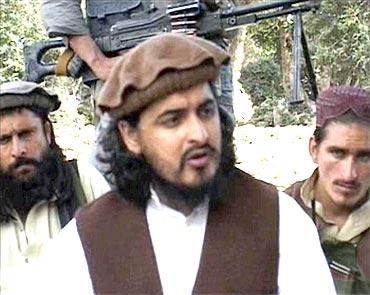 Pakistani Taliban leader Hakimullah Mehsud, who was reportedly killed in a United States drone strike in January, has vowed to attack the US in a new video dated early April.
The video was allegedly made on April 4, according to SITE, the intelligence group that monitors websites of Islamic terrorist outfit.
It surfaced in the wake of the Tehrik-e-Taliban Pakistan claiming responsibility for the crude car bomb found in Times Square in New York City on Sunday.
Pakistani intelligence agencies have dismissed the Taliban's claims over the car bomb, which was assembled crudely but could have been potentially dangerous.
"The time is very near when our fidayeen will attack the American states in the major cities," SITE quoted the Taliban leader as saying.
Mehsud was reportedly killed in a US drone strike in South Waziristan in January. Pakistani intelligence officials and the US administration have never confirmed his death.
The Taliban militants had refused to either confirm or deny the news.
Pakistan's Interior Minister Rehman Malik had confirmed Hakimullah's death but had failed to table any evidence to back his claims.
Recently, an Inter Services Intelligence official told the Guardian daily, "He (Hakimullah) is alive. He had some wounds but he is basically okay."
The report regarding Hakimullah surviving the drone attack will be a big blow for the Central Intelligence Agency, which has intensified the missile hits on militant hideouts along the Pakistan-Afghanistan border since the attack on its Khost base camp, in which seven CIA agents were killed.
The CIA has already carried out 38 attacks this year so far, as compared to a total of 49 in 2009.
Image: A file photograph of Pakistani Taliban chief Hakimullah Mehsud | Photograph: Reuters