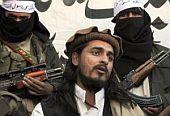 Hakimullah Mehsud, who succeeded Baitullah Mehsud as the feared head of the Tehrik-e-Taliban after the latter was killed in a US drone strike last year, wrote a short autobiography that highlights his transformation from a student to a fierce jihadi.
In the seven-page autobiography, Hakimullah Mehsud -- who the Pakistan government media claimed on Sunday had died of injuries sustained in a January drone attack -- describes his family background, schooling and career as a jihadi. Tahir Ali obtained a copy of the memoir in Islamabad:

"My name is Hakimullah and my age is 31 years. My father's name is Abdullah Din. He belongs to Ashengai Wajikhail, a clan of the Mehsud tribe. The name of my village is Badar and it is located in the Kotki area of South Waziristan. My mother also belongs to the Ashengai Wajikhail tribe and the name of my maternal grandfather is Ghulam Rasool.
I have four brothers; Kalimullah Shaheed (martyred), Ijaz, Atiqullah, Tahirullah and four sisters. I am the eldest among all my siblings. I have been married twice. My first wife is a local who belongs to the Ashengai clan of the Mehsud while my second wife hails from a Afridi tribal background in Orakzai agency.
I started my religious education at a local seminary, the Darul-uloom Shariah, run by Mufti Sarwar. I also attended a nearby school for contemporary education. After passing Class 8, I left school and focused on religious education.
When the US invaded Afghanistan, I was 22 years old. After the invasion, the Taliban reunited within the span of a few years. When they started attacking the foreign occupants, I became a part of them.
The first-ever attack took place when we targeted the Masha Kandaw checkpost in Khost under the leadership of Maulana Sangeen and Amir Baitullah Mehsud. After that, a full fledged jihad was waged against America in Afghanistan.
Later, acting on the advice of Amir Muhtaram (Baitullah Mehsud), I went on a four-month preaching mission with the Tableeghi Jamaat (a Deobandi outfit).
When I returned from Tableegh, the war had already entered Kalosha area in South Waziristan. Naik Muhammad Shaheed was actively fighting the forces. (Naik Muhammad was the first militant commander to fight the Pakistan military. Though he signed a peace agreement with the Pakistan government in 2004, he was killed in a US missile strike).
The senior jihadis assigned me with the duty of giving shelter to Al Qaeda and Uzbek militants in Waziristan. At the same time, I also took part in jihad against Pakistani forces. When the government attacked Mehsud-dominated areas, I participated more actively.
In 2005, when Baitullah Mehsud signed the Sararogha peace agreement with the government, I again rushed to Afghanistan to fight the Americans -- fidayeen, muftis, ulema and other mujahideen took part in the battle. After that, I was sent to Helmand and spent time at every tough battlefront in the province.
On my return to Pakistan, I went straight to Kurram and then to Orakzai, Khyber, Mehmand and Bajuar agencies. Later, Baitullah Mehsud appointed me commander of three agencies: Kurram, Orakzai and Khyber.
I was a close friend of Amirsahib (Baitullah Mehsud) and remained in the same company with him. I also worked as his driver. This is the story of my life.