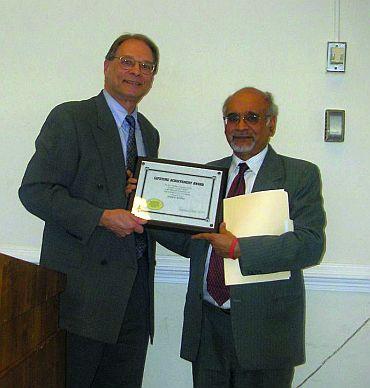 Attorney Ashok Batra, 67, a long-time activist on behalf of neglected and abused children, the majority of whom are indigent and from minority communities, was last week presented with the 2010 Lifetime Achievement Award of the Family Court Trial Lawyers Association of the District of Columbia.

Batra is the first Asian American attorney to receive this award.

Former president of the association Richard Landis accorded Batra a rousing introduction at the ceremony held at the David A Clarke Law School at the University of the District of Columbia on March 8, which was attended by over 200 attorneys, Indian American community leaders in the Washington metropolitan area and Indian embassy diplomats.

"At the dawn of the new century, Ashok retired from court service and began a new career as a CCAN (Child Centre for Abused and Neglected in the DEC Family Court) lawyer, serving children and families in our family court," said Landis, who also lauded Batra's selfless dedication for the elderly.
"Ashok has also provided pro bono legal services through the Legal Counsel for the Elderly in the District, and for a community legal clinic in Montgomery County, Maryland, since 2008."

"He has truly had an auspicious career, providing service to our court, our family bar and to his community," added Landis.

Batra was visibly overwhelmed. Accepting the award, he said, "When I was informed about this award, I sincerely believed there were more deserving attorneys than me." He credited Landis for convincing him to accept it.

"Generally, I have shied away from awards and honors," he said. "We, practitioners in the field of child welfare, feel rewarded when a child is reunited with his biological family, a child is adopted by a family, which is going to give love and a nurturing environment, or, when a young adult leaves the system and is on the way to becoming independent."

He added, "Our practice is different from other practices of law and it cannot be interpreted in the same manner as most legal work. It is social work-based practice that calls for extensive person-to-person contacts. It is very demanding and often the work demands longer hours than anticipated."

He lamented, "Our work often does not get the recognition it deserves," and argued for the "need to encourage civility and open communication between the bench and bar."



Batra, however, said that the Family Court had "come a long way in terms of remuneration and training," and commended the work of Wilma Brier, director of the CCAN Office for "developing a wonderful program for the new attorneys and offering numerous training sessions for the relevant issues."

"We still lack in terms of resources and get frustrated, but we carry on with our mission to provide effective legal services," he said.

Carolyn Daniels, chairperson of the past presidents committee of the Association of Family Court Trial Lawyers Association, told rediff.com, "Ashok is extremely smart, but I am impressed by his humility. He was so deserving of the award. He has done a remarkable job as president of the association. He is always quick on his feet and always well prepared in his presentations in the court."