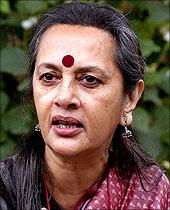 After seven MPs were suspended from the Rajya Sabha for their unruly behaviour over women's bill, Communist Party of India-Marxist leader Brinda Karat said on Tuesday that the government's stand on the issue was not clear.
"It is not clear what the government stand is. I would not comment (on the suspension)," Karat told media-persons.However, she said that what happened on Monday, in the House was "shameful and shocking".
Seven members belonging to the Samajwadi Party, Rashtriya Janata Dal, Lok Janshakti Party and an unattached MP were suspended for the remaining period of the budget session for their unruly behaviour in the House.
Terming the suspension of MPs causing disruption as a first step towards passing the Women's Reservation Bill,
Congress spokesperson Jayanti Natarajan said the government has shown its commitment."We moved for the suspension of disrupting members. Now it is for the other parties to show their commitment and let the bill pass," she said.
Earlier in the day, before the suspension of the members, Bharatiya Janata Party member Kusum Rai said, "It seems that government's intention is not honest as it failed to take action against those members who were disrupting the House showing disrespect to the Chair."