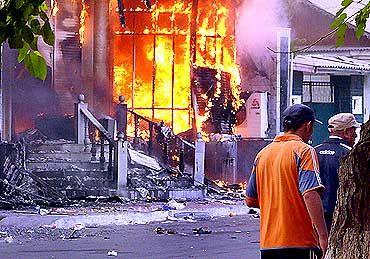 The ongoing violent clashes in Kyrgyzstan left more than 100 Indian students stranded at various parts of the country.
As per latest information, the second chartered flight, carrying the remaining stranded Indian students from violence-hit Osh and Jalalabad, landed safely in capital Bishkek.
Earler, a chartered flight carrying the first lot of stranded Indian students from Osh, reached Bishkek airport. The flight was over-crowded, so a few Indian students had to be left behind in Osh. Another flight was sent to Osh to bring down the remaining students.
With the second flight reaching safely, all stranded students have been evacuated from the violence-hit regions, a resuced student said.
Interestingly, few Indian students gave their flight seats to some Nepalese students in Osh airport, the report said.
Earlier, Dr Shaheer Khan, the official coordinator of Osh State University of Medical Faculty in Kyrgyzstan, told rediff.com that "the conditions were horrible. However, I am trying my best to fly all Indian students safely to Bishkek."
Earler, Indian mission sources pointed out that there were as many as 18 Indians trapped in the nearby city of Jalalabad, near the Uzbek border, where the authorities clamped a state of emergency on Sunday till June 22 and round-the-clock curfew.
Whereas the students trapped in Jalabad are safe and are in constant touch with us, Dr Khan added. They were brought down to the Osh airport on Monday evening, and were ferried further to Bishkek in the second chartered flight.
Meanwhile, Kyrgyz health officials have put the casualties at 113 deaths, with as many as 1,400 people injured. However, Ferghanaru web site quoting its sources in the Uzbek dominated areas said "death toll runs in hundreds." It said that scores of dead bodies were lying on the streets of small towns, which have compact Uzbek population.
The interim president Roza Otunbayeva has also conceded that the death toll could be higher than official figures as the interim government struggles to stem the worst ethnic clashes since the end of the Soviet Union.

Interim Kyrgyz President Roza Otunbayeva's provisional government had over the weekend given security forces shoot-to-kill orders to protect civilians, amid growing calls from foreign leaders and aid groups to end the clashes.
In the hostile terrains of Kyrgyzstan, Indian students have been grappling with intense fear and violence. Their only concern is the safe journey back home.
"The city is completely ravaged right now. The shops were shut down and there was limited supply of food in our homes. In this tense environment, we can only pray that conditions are better as we land in Bishkek," said Krippa Gupta, a student in Osh.
The past few weeks have been nightmare for Indians students who have been living in constant fear of death.
"We have been living underground like rats in inhospitable conditions. I have witnessed several deaths myself. Indeed, hell broke lose over us," said another student-Bhupinder.
The intensity of the crisis can be felt in another student Sangeeta's voice who explained she was grounded in her apartment as roads were blocked and anyone who dared to step out was electrocuted on the spot.
While conditions are greatly turbulent in the present, the future seems as bleak for these medical students.
"I am anxious about my degree which was to be conferred to us on June 25th. In the present scheme of things, I see my future cloudy," sighed Sangeeta.
Amidst fear and chaos the students keenly look forward to hear from the Indian ministry.
Their families back home only have kept their fingers clenched and hope an early arrival of their loved ones.
"I am enormously worried about my son's security. His phone calls have been erratic in the past as networks are anatomized in some places. I sincerely request the government of India to responsibly arrange for their departure from the riot inflicted areas," said Mr Khan, father of an Indian student, who spoke to rediff.com from Bahraich district in Uttar Pradesh, bordering Nepal.
Meanwhile things seem to be under control at ground zero.
Dr Shaheer Khan, the official coordinator of Osh State University of Medical Faculty in Kyrgyzstan, informed rediff.com that he has successfully located all the Indian students and plans to fly them to Bishkek by the end of the day.
With inputs from Rediff News Bureau