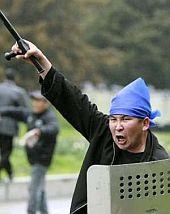 Over 100 Indians, a majority of them students, are trapped in Kyrgyzstan's southern Osh city, which has been hit by ethnic violence for the last three days leaving 113 people dead.
Official sources said the Indian mission was in close touch with those trapped in the violence-hit city as well as with the concerned authorities in that country, including their foreign ministry, to ensure safety of the Indian community.
Everything possible will be done to ensure the well being and safety of the Indians, the sources told PTI.

They said the mission was monitoring the situation very closely.
Besides 113 deaths, as many as 1,400 people have been injured in raging violence in Kyrgyzstan as the interim government struggles to stem the worst ethnic clashes since the end of the Soviet Union.
Interim Kyrgyz President Roza Otunbayeva's provisional government had over the weekend given security forces shoot-to-kill orders to protect civilians, amid growing calls from foreign leaders and aid groups to end the clashes.
It tightened a state of emergency to a 24-hour curfew in the Osh region, where the violence erupted Thursday and extended the emergency rule across the country's entire southern Jalalabad region as fighting spread there.
The provisional government has struggled to impose order since coming to power during deadly riots that ousted President Kurmanbek Bakiyev and left dozens of people dead.