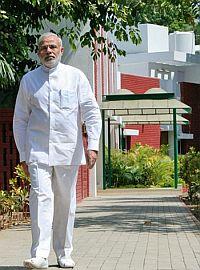 Ending all speculations, finally Gujarat Chief Minister Narendra Modi arrived in Patna on Saturday morning to attend the two-day Bharatiya Janata Party national executive meeting.


Hundreds of vehicles and BJP, Vishwa Hindu Parishad, Bajrang Dal and Rashtriya Swayamseavak Sangha workers welcome Narendra Modi on his arrival. They shouted slogans 'Narendra Modi Jindabad' with posters, banners and flags of the party in their hands.

This is Modi's first visit to Bihar after the Nitish Kumar-led National Democratic Alliance government came to power four and half years ago.

Other chief ministers of BJP-ruled states like Raman Singh of Chhattisgarh, Shivraj Singh Chouhan of Madhya Pradesh, Dhumal Singh of Himachal Pradesh and BS Yeddyurappa of Karnataka were also present.

BJP president Nitin Gadkari, party veteran L K Advani, Leader of Opposition in Lok Sabha Sushma Swaraj, Arun Jaitley, Murli Manohar Joshi, Venkaiah Naidu, Rajnath Singh, Ananth Kumar and Shahnawaz Hussain arrived here Friday evening itself.

The Bihar government has decided to accord Narendra Modi the status of a 'state guest' during his visit to Patna to attend the BJP's national executive meeting to be held on June 12 and 13.

The state government's decision has surprised many political experts, as Bihar Chief Minister Nitish Kumar had earlier distanced himself from Modi for the latter's alleged role in the communal riots that rocked Gujarat in 2002.

The Bihart government's decision indicates some serious shifts in the political equations between the ruling Janata Dal-United and the BJP.

The Bihar CM will also host a gala launch for the visiting BJP leaders.
Bihar BJP state president C P Thakur told rediff.com that Modi will address the party rally on Sunday.

Incidentally, due to Nitish Kumar's reservations, Modi had stayed away from campaigning in Bihar in the run-up to last year's Lok Sabha polls. In May, the Bihar CM had categorically stated that there was no need to invite Modi for campaigning before the state assembly polls in November.

Nitish Kumar had also opposed a move by a section of BJP leaders to project Modi as a prime ministerial candidate. He had also distanced himself from Modi's victory in the Gujarat assembly polls in 2007, saying, "The JD-U has nothing to do with the BJP or Modi's victory in Gujarat assembly elections as we contested separately."
Image: Gujarat Chief Minister Narendra Modi
Photograph: Rediff Archives