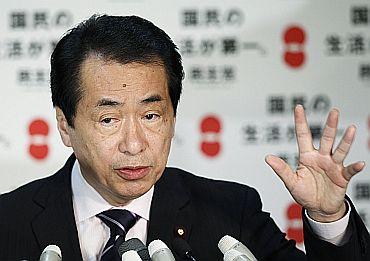 Japan's new Prime Minister Naoto Kan on Sunday promised United States President Barack Obama that he will make "strenuous efforts" to implement a bilateral pact to relocate a contentious American Marine base and deepen their military alliance to tackle global and regional challenges.
Making his diplomatic debut, Kan, Japan's fifth prime minister in four years, held a 15-minute telephone conversation with Obama and discussed bilateral ties as well as the contentious US Marine base issue.
Kan, who replaced Yukio Hatoyama, who stepped down last week after breaking a campaign promise to move the key military American base off the southern island of Okinawa.
During their telephonic conversation, arranged at the request of Washington, Kan and Obama also hit it off personally, having come from similar backgrounds, respectively, as a civic activist and a community organiser, Kyodo news agency quoted lawmakers from the ruling Democratic Party of Japan as saying.
"I want to make strenuous efforts based on the agreement" on the relocation of the Marine Corps Futenma Air Station, Kan, was quoted by his party members as telling Obama, adding, "Japan and the US will make further efforts."
Obama told Kan that he wants to strengthen bilateral cooperation in a 50-50 partnership and build an alliance that promotes peace and prosperity on a global scale, according to chief Cabinet secretary-designate Yoshito Sengoku and State Secretary for Foreign Affairs Tetsuro Fukuyama.
While emphasising the importance of the US-Japan alliance, the two leaders also agreed to "work very closely together to address the many issues facing both nations and the global community, including the challenges posed by North Korea and Iran," the White House said in a statement.
The talks, which an US official said "had an excellent tone," are apparently aimed at repairing bilateral ties strained by the previous Japanese government of Prime Minister Hatoyama, which reviewed an earlier bilateral pact on the relocation after sweeping to power last September.
Hatoyama's government came up with the new accord with Washington a week before he stepped down as prime minister on Friday under pressure over the thorny issue, without gaining the consent of affected local governments and residents of Okinawa Prefecture.
After being elected prime minister by parliament on Friday, Kan said that he will adhere to the Japan-US agreement reached May 28, having said he believes relations with the United States are the cornerstone of Japan's diplomacy.
Obama on Saturday congratulated Kan on his election Friday and shared with him "the conviction that the partnership and close ties between the United States and Japan greatly benefit the citizens of both nations and contribute significantly to stability and prosperity throughout the world," White House spokesman Robert Gibbs said in a statement.
Image: Japan's new Prime Minister Naoto Kan |  Photograph: Reuters