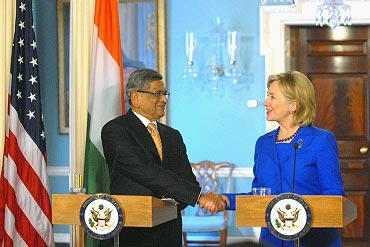 You have got to hand it to Secretary of State Hillary Clinton for her comeback at the news conference at the end of the inaugural United States-India Strategic Dialogue when asked what value the high-level interaction added in moving the relationship forward vis-a-vis tangible deliverables.
"This is an affair of the heart, not just of the head. The relationship between India and the United States and between our peoples is rooted in common values, and shared aspirations," Clinton said.
Asked how this strategic dialogue could be perceived as anything but essentially continuity and how it could represent any change in strategy at a macro level, she said the "current partnership represents both continuity and change."
She recalled that the US has had a "long, enduring relationship with India, going back to independence," and that "we have had many partnerships that have proven beneficial to both our countries, going back through that time," and cited in particular the Green Revolution.
Clinton said this "American-Indian project, stands as one of the great achievements of the 20th century, or perhaps all of human history. So the continuity that was evidenced by my husband's efforts to reach out to India, evidenced by President George W Bush's continuing efforts, and a commitment to a tangible demonstration of the modern state of our relationship with the civilian nuclear deal, has now come to a point where we wish to both continue and deepen the enduring relationship."
But she argued that President Barack Obama's administration wanted to "broaden the base of that relationship. So the comprehensive agenda encompassed by this strategic dialogue goes far beyond one project or one visit or any single aspect. Instead, we are committed to not only working government-to-government, as we have been today and as we have for the last year, but also building on the very strong foundation that exists between the Indian and American people."
She acknowledged that "we know we have different historical experiences, and we have different cultural perspectives. But underneath it, in addition to our common humanity, there is this commitment to democracy and diversity, to the rule of law, to the empowerment of people, that sets the United States and India apart."
Referring to the perennial cliches, Clinton said, "We often talk about how India is the largest democracy, we are the oldest democracy, we're the largest economy, India is making rapid progress and moving up with its economic growth. So this is a relationship that is so rooted in our values," she said. "And that's why I think it stands the test of time despite the vicissitudes that come between any two great countries or any two people, for that matter."
But she asserted that "persisting and understanding and working through on a basis of mutual respect is how we intend to build and even stronger relationship through the mechanism of this strategic dialogue in the years ahead."
Clinton's and External Affairs Minister S M Krishna's opening remarks reflected that both sides had discussed some of the tough issues and expressed each other's concerns.
Clinton acknowledged the high priority given to terrorism in the discussions.
"Both India and the United States have seen our cities and citizens targeted by violent extremists, and we share concerns about the continuing threat of terrorism and we share concerns about the dangers of nuclear proliferation. For our peoples, security is more than a priority; it is an imperative. And it was a prime topic of discussion today," she said.
"Minister Krishna and I discussed the importance of India's leadership to promoting security, stability, and prosperity across Asia and beyond. We are collaborating on a Counterterrorism Cooperation Initiative to improve information sharing and capacity building, and we agreed to expand cooperation in cyber security. We also are deepening our already extensive military-to-military partnership," she said.
And, then in alleviating concerns that the US, on the insistence of Pakistan, would rather have India maintain a low-profile in Afghanistan, Clinton said, "I thanked Minister Krishna for India's generous contributions in Afghanistan. And I was delighted to learn how deep the ties between India and Afghanistan go back, and it is clear that what India has been doing in development projects is very significant and we look forward to finding ways to collaborate."
Seeking to clear any doubts that the Obama administration was not committed to the consummation of the civilian India-US nuclear agreement, she said, "Charting an energy future that is secure and sustainable is a crucial challenge for both of us. I am pleased that we have completed a nuclear reprocessing agreement nearly six months ahead of schedule, underlying our commitment to the civil nuclear accord of 2008."
She said both sides will meet again in Delhi "to resume this high-level discussion. But between now and then, we will work every day to translate our shared goals into concrete actions."
Krishna said that "we agreed that terrorism, terrorist groups, operate as a syndicate" borrowing the phrase made popular by noted analyst Bruce Riedel, "leveraging each other's assets and strength, and are increasingly converging together on motivation and targets."
"Hence, a segmented approach towards terrorism," which several analysts in India have always accused the US of, Krishna said, "especially in our neighbourhood, could not succeed. We are pleased with the way our counterterrorism cooperation has progressed and today we have agreed to intensify" these efforts.
Earlier, Krishna had made no bones when he said that providing access to Pakistan-American Lashkar-e-Tayiba operative David Coleman Headley "is perhaps the logical next step," even as a team from India's National Investigation Agency was waiting to quiz Headley.
Image: US Secretary of State Hillary Clinton with External Affairs Minister S M Krishna | Photograph: Paresh Gandhi