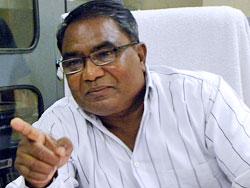 The man accused of championing and spearheading the Salwa Judum, the local tribal armed militia which fought the Naxalites in Chhattisgarh earlier this decade, mourns the demise of his movement.
"If I have indulged in violence, why is it that the Naxals or their people have not filed a single FIR (First Information Report with the police) against me? asks Mahendra Karma, the tribal Congress leader whose movement has been widely described as a State-supported vigilante group.
"Salwa Judum," he says, "had arisen at the local level against the political terrorism of the Naxals. The disintegration of this movement is very sad."
The Salwa Judum has been blamed for causing the widescale displacement of tribals and for many alleged atrocities, but Karma says he is being vilified by the Naxals and their supporters to discredit him.
A former leader of the Opposition in the Chhattisgarh assembly, Karma lost his seat as an MLA in the last election and has maintained a low profile after the Judum declined in influence in tribal Chhattisgarh.
To discover more about the mindset that created the Salwa Judum and his views on the Naxal problem, Rediff.com's Archana Masih spoke to Karma in Raipur recently.
The security forces have been engaged in a battle to counter the Naxals. The CRPF (Central Reserve Police Force) has suffered two major reverses in which several troops have died. What do you make of the government's current strategy?
Security forces should try and understand the techniques and strategy of the Naxals.
The Naxals are no longer running a movement, but are fighting a direct war with the forces and for this they have united all their dalams (squads). That's why the Naxals are attacking with strengths of 100, 500, 300 people.
Keeping that in mind, the forces (the paramilitary and police) should move forward together from one direction rather than engaging them from different areas.
The roads are more dangerous than the jungles. Our troops have to use the jungle as the main tool of defence against the Naxals. The forest which is a boon for the Naxals has proved to be a curse for the troops at this moment.
Since the Naxal movement began in Naxalbari (in 1967) the security forces of this country have been fighting them as a traditional enemy.
The weakness and strengths of the security forces is known to the Naxals, but the same is not true for the forces. Hence, the Naxals have continued to survive and strengthen their movement.
How has the Naxalite movement gained so much strength over the years?
The Naxalites have opened two fronts -- the gun-front and the public-front. The public-front is exemplified with demonstrations, bandhs etc, here they have spread their message so widely that on the national and international level it has divided people on this issue.
The pro-Naxalites are also part of their public-front. The Naxals try and cover all their weaknesses, violence and the excesses of their gun-front through this public-front.
Whose moral responsibility is it to stop the public-front of the Naxals? This responsibility rests with us leaders. But we are not in the field, we have given the Naxals a walkover.
If they have been successful in reaching thus far, it is because of us netas (politicians).
The answer to their guns is already being given by the security forces, but who should have countered their ideology? That moral responsibility was ours.
How many people are countering them politically?
What is the present status of the Salwa Judum, the controversial movement that you championed and led?
They are sitting idle in 17, 18 camps. When the force is already fighting the Naxals, why don't you let them also fight?
The Naxal problem is no longer restricted to our jungles. The movement (the Salwa Judum) had arisen against this political terrorism from a local level... the pause or disintegration of this movement is a very sad thing.
There are differences between the state and Centre about it that there should not be direct public participation or involvement in this front. I feel in a democracy -- where people make the government -- you are disbelieving the strength of that public.
This period of peace is dangerous for us and is being taken advantage of by the Naxals. Because we are not fighting, they have killed 400, 500 Judum people by calling them informers etc.
Your movement was widely criticised for its excesses against the tribals and saw a decline. What were the reasons for its decline?
Many political reasons. The Naxalites also tried to isolate our movement.
One of the methods adopted by them was by consistently targeting policemen -- to make the police wonder 'Why are they only targeting us? Why not the (Salwa Judum) movement against them?' So they tried creating a rift.
Similarly, by targeting the CRPF their strategy is to demoralise the forces that come from outside the state. To make the central forces feel that the Naxals are not attacking the state police, but are targeting them. By doing this they want to create a rift between the local police and security forces from outside.
To discredit the Judum, the Naxals put up many people against us to hammer us down.
Are you saying all the allegations of atrocities are negative publicity against you?
They called us a violent movement. If I have indulged in violence, why is it that the Naxals or their people have not filed a single FIR against me? Why?
They framed so many charges against me -- crowds used to follow me wherever I went and I know I have never indulged in any violence.
In an excited movement, excited people indulge in some small incidents, you cannot stop that.
Even when Gandhiji was doing his satyagraha, he had to break his movement several times, that was not Gandhiji's or the revolutionaries' intention, but sometimes it happens.
But the Judum has been accused of unleashing numerous atrocities on the tribals.
They levelled charges against us, but there is not a single FIR.
Even the National Human Rights Commission...
That they did in the court, but not in a thana (police station). All this was to defame us. To remove us from this battle. Even the court did not send us any summons.
But a chargesheet was filed against you.
That was against the government. Not against us.
What about the Judum's many excesses?
That is negative publicity by the Naxals. This is a routine stunt by the Naxals to defame any force that takes them on.
But all these charges can't be false.
So why haven't they -- the Naxals or their sympathisers or the human rights commission -- filed any FIR against me? I was waiting, why didn't they?
I don't understand -- does it ever happen that in a movement the leader goes scot free and the rank and file gets caught?
In the history of the world has there ever been a movement like this (the Salwa Judum) against political terrorism?
Naxalism is political terrorism.
India is emerging as a superpower and anti-democratic forces want to destablise the government, so they also get international support from such forces.
Naxals are getting direct or indirect support. If this problem is not solved, then this country and its people will have to pay no less a price than what they paid for freedom.
I am a democrat and live in a democratic system. If they are against our system, then it is a rebellion and should be crushed like one.
The biggest drawback of our democracy is that democrats don't have a commitment to their democracy.
The Salwa Judum is accused of displacing tribals in village after village and committing excesses against them. You will always be blamed for those excesses...
I am a tribal. We tribals are pro-nature. We have our own customs, norms socio-econimic set-up. These comrades came and converted us tribals into comrades.
Why do you write your surname? Tell me. You write it because it is linked with your family, your ancestors, your tradition.
If you remove your surname, will it not bring changes to your living style, ideas?
If you are removed from your religious, cultural base, how would you feel?
They make us (tribals) comrades by pointing a gun at us. Being a tribal leader, is it not my responsibility to ask them to leave our land and let us live?
I have fought that fight, if I am wrong in that fight, I am willing to commit that wrong again.
But you have used violent means.
That is negative publicity done by them (the Naxals). The people in the villages know me more than the press. Why isn't there a single allegation, FIR, against me then?
Why should we be forgiving of Naxals after the attacks they have done on rail lines, CRPF etc?
I don't think anyone is forgiving the Naxals for that.
I am saying that if any of these was even marginally true I would have left politics.
In my movement, wherever I went, the forces were with me -- SP (superintendent of police), collector. We used to go with 10,000, 20,000 people, so this is not true.
What lies in the future for you and the Salwa Judum?
When I am in the right place politically, I will revive my movement. My confidence has not been damaged. I can finish Naxalism, whatever be the situation.
If I had some political support or if I came back into the political mainstream I believe the Naxals will themselves flee.
They know I am Karma and I know their weaknesses.
You have to fight them in the jungles, if the DGP (director general of police) goes to the jungles his forces will have greater confidence to fight. If politicians go to the jungles, the public will follow them.
You say you can finish Naxalism if you had public support?
I can finish it with a public movement, I won't even need political support. This is not a battle to win a jagir or land. The day peace loving forces are in majority, that is the day we will win this war. We are becoming victims of fear.
Can the Naxals move beyond the forests and reach India's towns and cities?
Towns and cities are weaker than the villages. At least the border of each village is united. It has some autonomous functioning, which is not so in cities.
A single Dawood (Ibrahim) crippled Bombay. He has fled the city, but is still extorting money from outside.
The cities are not safe, Naxals will reach them very soon.
One of the reasons for tribal resentment is the government's failure to bring about development, infrastructure and progress.
Naxals are the biggest enemies of development.
From 1947 whatever infrastructure, development, was made was destroyed by them. Their theory is to keep the tribals away from progress.
If they want a revolution in these areas they have to keep progress away from the tribals. This is their hidden theory and we grieve that the Adivasi is not seeing any progress, that they are being displaced.
Today wherever there are natural resources, there is a jungle, where there is a jungle, there are tribals. Exploration (for mineral resources) is being done for decades, but based on that when we talk of any industry, why do we talk about tribal exploitation only then?
If that is so, why don't you stop the effects of those resources? What is buried in the ground for millenia can remain buried. It's not as if you don't exploit it, it will suffer any loss.
You want the tribals to remain like that. What about their children? You have to listen to their voices. These people who support the Naxals don't want the Adivasis to get educated and progress.
There is no concept of an educated Adivasi, we have no thinking about them. We have to think about them. It is unfortunate that they don't feature on our radar.
If you revive the Salwa Judum, how different will it be?
Now I will include everyone -- even the media so that they can see where we are violent. I want all people to join, it should not be limited to Adivasis.
I am repeatedly saying I am not violent, neither was my movement violent. I deny this accusation by the Naxals.
Not a single Judum member has a FIR against him, he hasn't been to court -- all these human rights people they should ask our activists or name us by name. These are all allegations.
Photograph: Seema Pant
ALSO READ:
Fighting Naxals: Cops, CRPF don't trust each other
Salwa Judum: Strategy that backfired
Armed might won't defeat the Naxals
How a 14-year-old saved her brother in a Naxal attack
'Naxal movement has shown enormous grit'
No battle against Maoists can be won without local help
Chhattisgarh's children of war
Exclusive interview with Chhattisgarh DGP
'This monsoon Maoists will fight for survival'