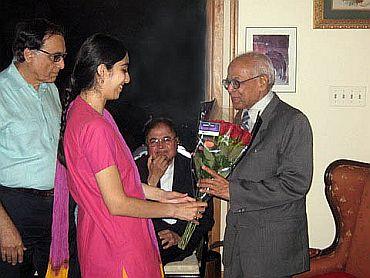 Over 100 people in the Washington, DC metropolitan area gathered to hear Indian Muslim leader Syed Shahabuddin at a dinner hosted in his honour by the Association of Indian Muslims of America.
Shahabuddin, a diplomat turned politician turned community activist who is president of the All India Muslim Majlis-e-Mushawarat, said that in the last few years there has been 'a significant political awakening in the Muslim community in various regions of India.'
Muslims, he said, "are now holding rallies in various regions of India demanding from various political parties that they implement specific development programs to correct the extraordinary educational and socio-economic backwardness in the community."
Shahabuddin, who was introduced by community activist Kaleem Kawaja, a senior engineer with the National Aeronautics and Space Administration who heads the AIM's Washington chapter, spoke of rallies being held in West Bengal, Tamil Nadu and Kerala, which was unprecedented and said that with elections coming up in West Bengal and Bihar, Muslims had become "very vocal with slogans like 'No reservation for us, no vote from us."
Thus, he said, Muslims in India were "now asserting with the secular parties that just maintaining a secular polity is not enough; they have to bring about development schemes focused on their very backward community."
He said, "The tabling of the Misra Commission report in the last session of parliament, gives them hope that soon this report -- that recommends some affirmative action programs to provide preference in educational institutions and government employment to Muslims -- will see some implementation."
He called it "an uphill political struggle", because for 60 years "all political parties have taken them (Muslims) for granted."
Shahabuddin said that since the release of the Sachar Committee Report two years ago, the Indian government "has started implementing one of its many recommendations -- that is, it has started giving scholarships to a large number of Muslim students to help them acquire a college education. This is a good sign, and the Muslims have to build on it for further help from the government."
Shahabuddin said Muslims were also demanding "that the government build many more schools in Muslim majority localities in cities and villages across the country."
Indian Muslims, he said, are optimistic about their future and "as India's economic growth continues, that there will be a place for them."
Image: Syed Shahabuddin (right) being greeted at Washington, DC