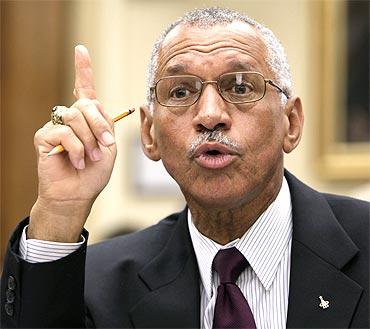 For those who think the American space agency National Aeronautics and Space Administration is involved in matters only above terra firma, here's some news.
NASA administrator Charles Bolden said in a recent interview that his foremost mission was something very terrestrial – to improve relations with the Muslim world.
Fittingly perhaps, he said this in an interview to Al Jazeera after visiting the Middle East last month to mark the one year since US President Barack Obama's address to the Muslim world in Cairo.
Denying that he was on a diplomatic mission, Bolden said better relations with the Muslim world was among the three priorities Obama had assigned him -- before he became Nasa administrator -- and that better interaction with the Muslim world would ultimately work to the betterment of space travel.
Holding up the International Space Station as a model of multilateral cooperation, Bolden said, "It is a matter of reaching out and getting the best of all worlds. There is much to be gained by drawing in the contributions that are possible from the Muslim nations."
Outlining the priorities assigned to him by Obama, Bolden said, "He charged me with three things. One, he wanted me to help re-inspire children to want to get into science and math; two, he wanted me to expand our international relationships; and three and foremost, he wanted me to find a way to reach out to the Muslim world and engage much more with dominantly Muslim nations to help them feel good about their historic contributions to science and math and engineering."
Space travel, he said, is an example of international collaboration of which Muslim nations must be a part, especially since no country is going to make it to Mars without international help.
Image: NASA administrator Charles Bolden. Photograph by Yuri Gripas/Reuters