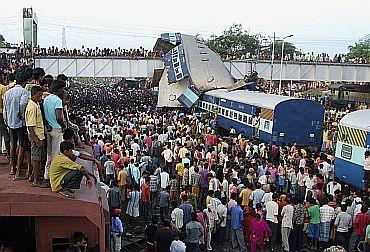 Union Minister of Railways Mamta Bannerjee, who is extremely perturbed by the disastrous train mishap in West Bengal early on Monday morning, has asked her ministry to carefully oversee the postmortem of M C Dey, the driver of the New Coochbehar-Sealdah Uttarbanga Express, which rammed into Bhagalpur-Ranchi Vananchal Express in Sainthia station of Birbhum district, killing 62 people and injuring 92 others.
Mamta wants to ensure that the Communist Party of India-Marxist led West Bengal government should not influence the forensic investigation in any way. Dey, who was driving the ill-fated Uttarbanga Express along with assistant driver N K Mandal, died on the spot with Mandal in the accident.
Mamta is so upset by the series of rail accidents, the second in a span of 60 days (Mumbai bound Gyaneshwari Express was derailed by 'Maoists' before it rammed into a goods train, killing 132 people, in West Midnapore district of the state on May 28), that she has expressed distress and dismay before her confidantes.
According to Trinamool Congress sources, "Mamta may look composed and gritty in front of TV cameras, but she is struggling to come to terms with the series of mishaps, which is killing railway passengers, who are mostly poor."
One of her colleagues said, "We apprehend some foul play, and there is no doubt about it. How it is possible that a driver didn't care for his own life? Only a suicide bomber or a mad man would drive at the speed of 70 kilometers per hour while entering the station where his train is supposed to halt."
On Monday morning, Trinamool Congress leaders met Didi in New Delhi, when she was leaving for the accident site in West Bengal. Sources claimed Mamta was shell-shocked.
She was convinced that the train accident was an act of sabotage. She even told her party men, "If these accidents are happening due to me, then let me go."
However, when asked was she offering to resign, her party men quickly denied. They explained that she was deeply disturbed and was trying to come to terms with the enormity of the accident.
Trinamool leaders pointed to the agency report that claimed that driver Dey had an 'accident-free record' and was promoted recently.
Moreover he had adequate rest before taking charge of the train at Malda station, five hours before the accident. Preliminary report of the railway ministry also suggests that Mamta Bannerjee and his party's apprehension of sabotage of any kind may not be correct -- because the railway's inquiry also claims that 'prior to the accident, Dey had a conversation with the railway staff at Rampurhat station, which falls just before Sainthia, and that showed that he was in absolute control of the train, ruling out the possibility of his being in inebriated condition.'
Image: Onlookers stand at the site of a train accident at Sainthia on Monday
Photograph: Reuters