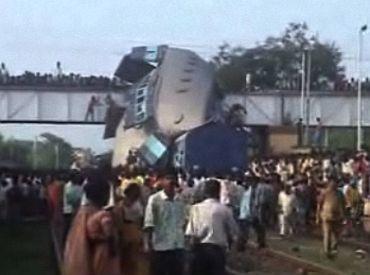 The Railways has not rule out the possibility of sabotage in the train collision involving Uttarbanga Express and the Vananchal Express in Sainthia, West Bengal, on Monday morning that claimed the lives of at least 60 passengers.

"Nothing can be ruled out. It may be possible that our equipment might have been tampered with. It will be known only after inquiry)," Eastern Railways General Manager V N Tripathy told PTI.

"The Commissioner of Railway safety is holding an inquiry after which we will be able to know what exactly happened."

To another question, he said that the Uttarbanga Express, which rammed into the rear of Vananchal Express, seemed to be running at a much higher speed than it was supposed to while entering the Sainthia station.

The engine of the Uttarbanga Express, which was to stop at the station, telescoped into the rear of the Vananchal Express.