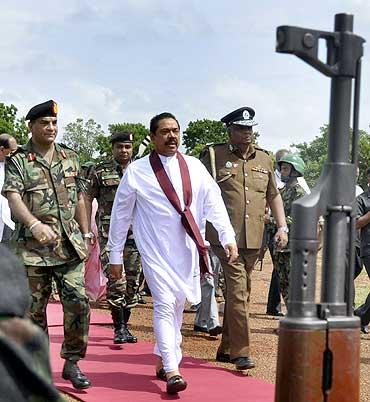 The Sri Lankan government on Wednesday held its first ever cabinet meeting in the Tamil heartland of Kilinochchi, the erstwhile administrative capital of the vanquished Liberation Tigers of Tamil Eelam.
"The weekly cabinet meeting commenced in Kilinochchi at 10 am today under the patronage of President Mahinda Rajapakse," a statement said.
The meeting was conducted at the administrative building of the defence forces headquarters near the Iranamadu tank.
Provincial chief ministers were invited to participate in the cabinet meeting which reviewed the progress in the northern province.
Media Minister Keheliya Rambukwella said the government has decided to hold cabinet meetings in other districts of the country in the future.
After the meeting, President Rajapakse held discussions on the developmental activities carried out in the district since the end of the war against the LTTE.
The President also addressed a public rally at Iranamadu where he also spoke in Tamil.
The cabinet secretary, government officials, presidential and ministerial security division made arrangements to hold the meeting in Kilinochchi following the decision made to hold Cabinet meetings in different provinces across the countru, an official statement said.
The cabinet usually meets once a week at 'Temple Trees', the official residence of the President in Colombo.
Sri Lankan forces liberated Kilinochchi from the LTTE in January 2009 following a fierce battle. The Tamil Tigers had made Kilinochchi their administrative centre.
Image: Sri Lankan President Mahinda Rajapaksa heads to a cabinet meeting in Kilinochchi | Photograph: Reuters