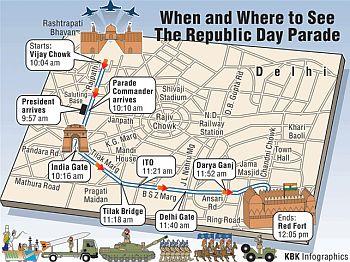 A heavy security blanket has been thrown around New Delhi for the Republic Day with snipers and mobile hit teams fanning across the city to thwart terror attempts to disrupt the national celebrations.
The security measures were planned in the backdrop of intelligence inputs about Pak-based Lashkar-e-Tayiba acquiring over 50 para-gliding equipment, which could be used to launch an air-borne suicide attack.
A ground-to-air security apparatus has been put in place for the celebrations while over 15,000 security personnel are keeping a tight watch between Vijay Chowk and Red Fort, the 8 km long route through which the parade showcasing the country's diversity and military prowess passes through.
192 companies (over 15,000) police and paramilitary personnel have been deployed on the parade route. This is apart from the resources available with New Delhi and Central Delhi police districts.
A senior police official said a multi-layer security ring has been put in place at Rajpath.
Mobile hit teams, anti-aircraft guns and sharpshooters of the National Security Guards have been deployed at various places. Snipers have been deployed at high-rise buildings, especially on the parade route, while a total of 105 CCTVs have been installed to keep a vigil on people's movement between Rajpath and Red Fort.
"A special emphasis was laid on anti-sabotage checks, access control measures and intelligence coordination. The entire route of the parade will be covered by special security and anti-terror arrangements. Elaborate air defence measures, including deployment of anti-aircraft guns, have also been taken to check possible intrusion of air space," the official said.
Besides helicopters of the Indian Air Force will hover over the areas around Rajpath and all along the route of the parade, the official said.
Elaborate traffic arrangements have also been made for Tuesday. Vehicles will not be allowed to enter the parade route while Metro services have been curtailed.
Patrolling in crowded market areas has been intensified and checking and frisking in metro, railway stations and bus terminals tightened in the past few days.
Security at the IGI airport has also been strengthened in coordination with the CISF.
Checking and frisking have also been intensified at all entry points with police setting up barricades to keep a vigil on all those entering the capital.