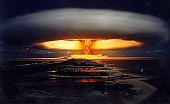 A nuclear war between India and Pakistan could cause severe 'climate cooling' and may have a devastating impact on agriculture worldwide, says a report jointly produced by Japan and Australia on nuclear non-proliferation and disarmament.

"Just a limited regional nuclear exchange, for example between India and Pakistan, with each side attacking the other's major cities with 50 low-yield Hiroshima-sized weapons, would throw up major concentrations of soot into the stratosphere, which would remain there for long enough to cause unprecedented climate cooling worldwide, with major disruptive effects on global agriculture," the report says.

It reveals that during the eighties scientists had conducted research on the impact of nuclear war on the climate and found the possibility of pollution of atmosphere by massive amounts of debris and smoke would block out the sunlight for decades and lead to a "nuclear winter".

This would kill many plants and animals, drastically changing ecological balances, cause famines and lead to breakdown of communities not directly affected by nuclear explosions, says the report produced by International Commission for Nuclear Non-proliferation and Disarmament.

It states that after the eighties there was a great deal of suspicion about the "nuclear winter" theory but research on the subject was picking up again.

Pointing to research in the last two years, the report estimated that there are at least 23,000 nuclear warheads still in existence that have a combined blast capacity equivalent to 150,000 Hiroshima bombs.

The US and Russia together have over 22,000 and China, France, the UK, India, Pakistan and Israel around 1,000 among them.

"Nearly half of all warheads are still operationally deployed, and the US and Russia each have over 2,000 weapons on dangerously high alert, ready to be launched immediately -- within a decision window of just 4-8 minutes for each president -- in the event of perceived attack," it says.

"The medium term agenda for 2025 is to achieve by then a dramatic reduction in the number of war heads in existence," Gareth Evans, co-chair of the commission and former Australian foreign minister, told media persons in New York.

"Down from the present 23,000 to no more than 2000."

Evans underlined that the reduction in the number of weapons had to be accompanied by an agreement by all the nuclear-armed states to a "no first use" policy, and that the deployment of such weapons should be "dramatically limited".

"Only a small proportion at the most of the weapons being in existence being actively deployed and being on any kind of launch alert state," he said.

The study estimates that India and Pakistan have 60 operationally deployed nuclear weapons each.