Late West Bengal Sports and Transport Minister Sub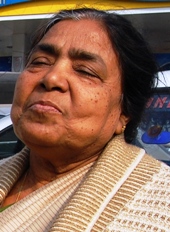 has Chakraborty's wife Ramala could not hold her tears when asked to talk about Jyoti Basu. The veteran Marxist leader breathed his last at a private hospital on Sunday.
The Chakrabortys knew Jyoti Basu very well. Her husband, Basu's protege, never made any political move without his advice. It is said that Subhas Chakraborty dared to take on the Communist Party of India-Marxist Politburo's decision to sack former speaker Somnath Chatterjee in July 2008 only because he received a tacit approval from Basu.
Both Ramala and Subhas took care of the old and ailing Basu in his last years and paid a visit to his Indira Bhawan residence regularly.
Chakraborty spoke to rediff.com at the AMRI hospital, where Basu received treatment, on Sunday afternoon. Over to her. . .
Beneath his stern veneer, Basu was an affable individual, full of humour and affection. He was a family man to the core and did his best to keep his family members happy.
I came in contact with Jyotibabu in the early 1960s. He had an aura around him that earned everyone's respect. To be honest, Subhas and I were in awe with him. We, the young party members, put him on a pedestal and literally worshipped him.
However, as we grew closer with time, we came to see the other side of Basu. We saw in him a great leader, an astute politician as well as a kind individual. He was someone who thought sincerely about the people and the people's movement.
Gradually, I developed a special bond with him. I could now put forth certain issues which nobody could broach to Jyotibabu, without fear. For instance, CPI-M does not believe in celebrating birthdays.
However, Subhas and I convinced Jyotibabu to have some sort of fête on his birthday on July 8. He could not say 'no' to us.
Jyotibabu was a Bengali to the core. He was very fond of authentic Bengali cuisine and relished whatever I cooked for him.
He loved non-vegetarian food -- mangsher jhol (meat curry) and maacher jhaal (a fish preparation) being his hot favourites.
To me, he was like a banyan tree -- a true guardian whom I could turn to for advice in crisis. I feel so helpless at the moment.
Image: Ramala Chakraborty. | Photograph: Dipak Chakraborty