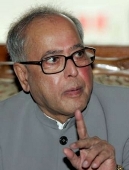 Finance minister Pranab Mukherjee will represent the Centre and the Congress at the cremation of Marxist veteran Jyoti Basu.
Congress sources said Mukherjee, also Bengal Pradesh Congress chief, will attend the cremation as the representative of the Union government as well as the party.
Communist Party of India general secretary A B Bardhan and national secretary D Raja will go to Kolkata and represent their party at the cremation.
Image: Pranab Mukherjee