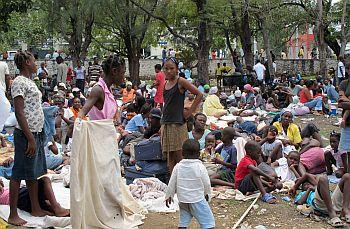 Several countries have dispatched their rescue teams to Haiti to begin the search operations for those who are still buried under the rubble of collapsed buildings following a devastating quake.
The United Nations Peacekeeping Mission in Haiti (MINUSTAH) has appealed for immediate assistance and the UN in New York will issue a flash appeal for aid in the coming days.
"MINUSTAH is expecting a team of search and rescue experts from China to arrive shortly to lead rescue operations at the collapsed MINUSTAH headquarters," Vincenzo Pugliese, the UN spokesperson in Haiti, told UN officials in New York.
UN peacekeeping chief Alain Le Roy said the Chinese team will reach the Caribean country shortly. The top UN official on humanitarian affairs John Holmes told mediapersons in New York that two US teams were also expected to reach the country in a few hours.
Other countries, including France, Iceland and Dominican Republic are also sending their help and rescue teams.
An earthquake of 7.3-magnitude rocked the Caribbean nation of Haiti on Wednesday and damaged presidential palace besides other government buildings in the country's capital Port-au-Prince.
The country's prime minister warned the death toll may top 100,000 in a calamitous quake which left streets strewn with corpses and thousands missing in a scene of utter carnage.
Electricity and water are in short supply, according to Pugliese. "An unknown number -- tens if not hundreds of thousands -- have suffered varying degrees of destruction to their homes," Roy said.
"Haitians, fearful of houses collapsing on them or of a second earthquake, slept in the streets of Port-au-Prince last night," he said.
Latest reports indicate that between 50 and 100 people, who were in the six-storey building of the UN headquarters in Haiti when it collapsed, have yet to be accounted for.
Other UN offices have also been damaged, and 10 people are missing from the United Nations Development Programme compound.
The UN World Food Programme is airlifting an additional 86 metric tonnes of food from its emergency hub in El Salvador, including energy biscuits, to sustain thousands of people over seven days. The UN has already released $ 10 million in emergency aid.
Image: Haitians left homeless in the aftermath of Tuesday's earthquake rest at a park in Port-au-Prince
Photograph: STR New / Reuters