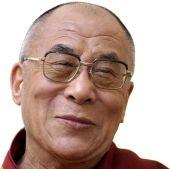 Described as South Asia's biggest monastery, a new Buddhist place of worship, is set to be unveiled by the Dalai Lama at Chandragiri in Orissa's Gajapati district on January 12.
The spiritual leader, who is arriving in Orissa on Monday on a four-day visit to the state, would consecrate and inaugurate the monastery, built at a cost of Rs 8 crore, religious chief of Tibetan settlement at Chandragiri, Gyetrul Jigme Rinpoche told media persons in Bhubaneswar.
About 4000 guests from across the world are likely to witness the opening of the monastery, spread over an area of 10 acres and constructed in Atanpuri style of architecture of Nalanda, he said.
The rituals and consecration ceremony at the monastery with 70-feet high five-storey edifice would continue for four days during the Dalai Lama's ninth visit to Orissa, which has carved a niche for itself in Buddhism map, he said.
The monastery, named after Acharya Padmasambhav who was born in Orissa and believed to have spread Buddhism to Tibet in 7th century, is an architectural marvel and a dream project of the Tibetan people in exile settled in Orissa, Rinpoche said, adding architects from Tibet, Nepal and Bhutan, besides local masons took over six years to build it.
With a 21-feet high Buddha idol, the monastery would act as a link between Orissa's history and that of Buddhism. During 7th and 10th centuries, Orissa was considered cradle of Vijryana Buddhism or Tantrik Buddhism, known as Tantrayana, he said.
Preparation was on in full swing for inauguration of the monastery by the Dalai Lama, who had last visited the Tibetan settlement in 2003. The Nobel laureate is also scheduled to open a Stupa of enlightenment.
Besides inaugurating the monastery, the Dalai Lama would address students at the Central school and the Tibetan people and also witness cultural programmes to be staged by the local people at Chandragiri.

Recognised as a tourism site, the monastery is already thronged by tourists, Rinpoche said adding domestic and international tourism was beginning to flourish with the 'Rigon Thupten Mindorling Monastery' becoming a vital and positive economic force for surrounding communities.

By providing employment to locals and Tibetans, the monastery would play a major role in economic development of the region besides becoming a source of income for several non-government societies, he said.

Apart from performing rituals at Chandragiri, the Dalai Lama is expected to deliver a public address in Bhubaneshwar on January 14, sources said.