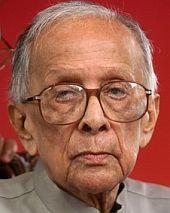 The condition of 95-year-old Communist Party of India-Marxist patriarch Jyoti Basu was marginally better on Sunday, though he continued to remain critical, doctors attending on him said.
"His general condition is marginally better than Saturday, but still critical and he is on partial ventilation," Executive Director of private AMRI hospital D N Agarwal told media persons.
Agarwal, who gave a break up of the functioning of Basu's vital organs, said, "his central nervous system is better in comparison to Saturday and his cardio-vascular system is more or less stable."
Basu's blood pressure was being maintained with a minimum dose of stabilising drug, Ionotropes, and his lungs were showing some signs of improvement. "Infection is being adequately treated," he said.

His urine output has picked up and no dialysis was necessary at the moment, he said.
Basu, who will complete 96 years on July 8, was admitted to the private hospital in Salt Lake with pneumonia on January one and since then his condition remained critical.