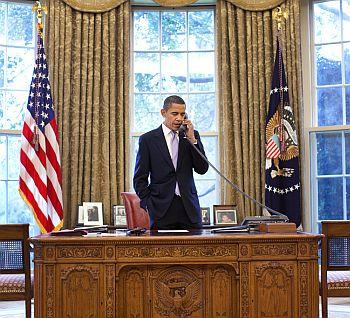 Vowing new measures to fix the huge intelligence flaws exposed by an Al-Qaeda attack on a US jet, President Barack Obama has said the buck stops with him as he is ultimately responsible for the country's security.

"I am less interested in passing out blame than I am in learning from and correcting these mistakes to make us safer," Obama said.
"Ultimately the buck stops with me. As President, I have a solemn responsibility to protect our nation and our people, and when the system fails, it is my responsibility," he said in a televised statement from the White House.
He made the remarks after receiving the preliminary report of the probe he had ordered after the failed December 25 plane bombing by a suspected Al Qaeda operative.
"I have repeatedly made it clear -- in public, with the American people, and in private, with my national security team -- that I will hold my staff, our agencies and the people in them accountable when they fail to perform their responsibilities at the highest levels," Obama said.
"Now this stage in the review process it appears that this incident was not the fault of a single individual or organisation, but rather a systemic failure across organisations and agencies."
"That's why, in addition to the corrective efforts that I've ordered, I've directed agency heads to establish internal accountability reviews and directed my national security staff to monitor their efforts," Obama said.

"We will measure progress, and John Brennan will report back to me within 30 days and on a regular basis after that. All of these agencies and their leaders are responsible for implementing these reforms, and all will be held accountable if they don't."
Noting that there is no foolproof solution, he said, "As we develop new screening technologies and procedures, our adversaries will seek new ways to evade them, as was shown by the Christmas attack."
In the never-ending race to protect the US, Obama said, "We have to stay one step ahead of a nimble adversary. That's what these steps are designed to do."
Obama said his administration would continue to work with Congress to ensure that its intelligence, homeland security and law enforcement communities have the resources they need to keep the American people safe.
"I ordered these two immediate reviews, so that we could take immediate action to secure our country. But in the weeks and months ahead, we will continue a sustained and intensive effort, of analysis and assessment, that we leave no stone unturned in seeking better ways to protect the American people," Obama said.

Image: President Barack Obama on a phone call at the Oval Office
Photograph: Official White House photo by Pete Souza