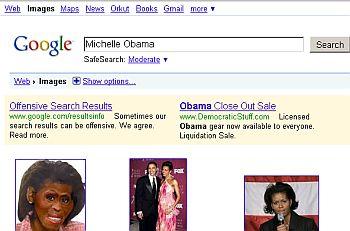 A caricature of US First Lady Michelle Obama as a chimpanzee has reappeared on the Internet, two months after the morphed "racist" picture first provoked a major controversy.
The image has now been reappearing at the top of the results when the words "Michelle Obama" are put into Google's picture search engine.
Despite complaints that it is "racist", the US Internet giant has refused to remove the offensive image from its picture search listings, citing its commitment to "free expression", the media reported.
Instead, Google is running an advertisement next to the picture, which explains how its search engine works and concedes that sometimes the results could be "offensive".
However, the image was eventually withdrawn by Hot Girls, a blog hosted by the Google-owned Blogger, on which it was appearing in November last year.
A spokesman for Google then said that the company was looking into why that was happening for some users and that it was not a "deliberate" action to remove the explanation. "We would generally keep it (the explanation) up for as long as the blog (hosting the content) was up."
Google had warned, however, that the image of the US First Lady could easily reappear in its listings if another blog posted it.
Google handles nearly two thirds of all net searches in the US and it uses a complex algorithm to decide which web pages should come up first when a user goes for a search on its engine.