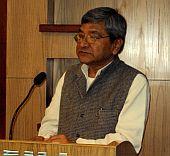 "The Americans are responsible for the troubles in the sub-continent. Pakistan and India are following the US agenda, but should make their own decisions. The resumption of talks between the two countries is a positive step and it should go on," renowned Indian scholar Tapan Bose said on Thursday.
Addressing a seminar organised by South Asia Free Media Association (SAFMA) in Islamabad, Bose said: "The resumption of talks between India and Pakistan is a good sign. We are optimistic about its positive outcomes but how can we take this process forward? The US is deciding the fate of other nations. It is also sad that both Pakistani and Indian government are involved with the Americans."
"During the BJP government, India went closer to America; the cooperation continues during the Congress government. The US is deciding about my enemy -- today in Afghanistan and South Waziristan, tomorrow it may point out my enemy in Kerala or Karachi. This is agenda of extending the hegemony of US and Western power all around the world," he added
Talking about the Kashmir dispute, the scholar observed: "The problem of the Kashmir is not a territorial issue, it relates to the aspiration of the people of Jammu and Kashmir on the both sides of the Line of Control."
"Any political solution to the future of Kashmir has to be acceptable to the people of Kashmir, the process of dialogue must include this issue, and for that the governments must withdraw their security apparatuses and must create space for the start of normal political process; and whatever the people decide must be acceptable to the governments."
"There should be relaxation of border controls and the visa process should be easy and as normal as it can be possible. Ordinary people do not talk of war; they don't want war. If the Mumbai incident had occurred some 20 years back every Indian would certainly want an attack on Pakistan. But the situation is different now. People want solutions to disputes through dialogue. The peace process will certainly bring harmony into the region; let's give peace a chance," he added.