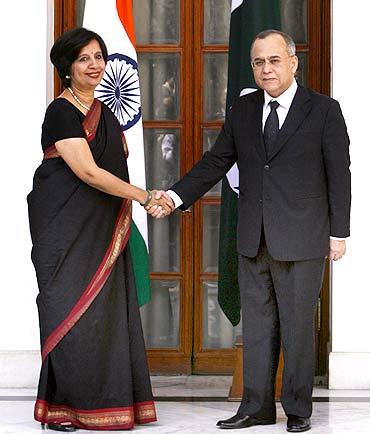 Pressing Pakistan to end terrorism directed against it, India on Thursday gave it three dossiers containing names of 34 terrorists wanted by New Delhi, including Lashkar e Tayiba chief Hafiz Saeed, with a demand for handing them over and other effective actions.
At the day-long talks in New Delhi between Foreign Secretary Nirupama Rao and her Pakistani counterpart Salman Bashir aimed at ending the chill in bilateral ties, the two sides noted the "trust deficit" in the ties and decided to "remain in touch and continue endeavour to restore trust".
Rao told a press conference after the talks that "We have set out to take a first step towards rebuilding trust and I believe my meeting with the Pakistan foreign secretary has constituted that first step."
While India focussed on cross-border terrorism, Pakistan raised the issue of Kashmir, Balochistan and the water dispute. The Indian side also voiced concern over the beheading of a Sikh by the Taliban in Pakistan.
Noting that the trust had been "erased" by the Mumbai terror attacks, she said the Pune blast, which is still under investigation, "is yet another reminder that our citizens remain vulnerable to terrorist violence."
Rao said she had told her Pakistani counterpart that "terrorism cannot advance any cause, but the cause of senseless violence" and that it was the "solemn duty" of Pakistan to "eliminate all terrorist groups, operating from their soil, regardless of their ideology or agenda."
With regard to 26/11, India "acknowledged" the steps taken by Pakistan so far to bring perpetrators to justice, but "pointed out that these did not go far enough to unravel the full conspiracy behind the Mumbai attack and to award exemplary punishment to all culprits."
India conveyed its persisting concerns about the continued existence of terror infrastructure in Pakistan and "unhindered activities of organisations such as Lashkar-e-Taiba/Jamaat ud Dawa, Hizb ul Mujahideen etc from Pakistani territory and territory under Pakistan's control to perpetrate terrorist violence against India."
In this regard, a reference was made to Hafiz Saeed's provocative speech in Lahore on February 5 in which he openly incited terror violence against India.
"It was emphasised that the Government of India could not but take a serious note of such actions as it was duty-bound to ensure the security of its citizens," Rao said.
Describing the Mumbai terror attacks as "a symptom of a larger problem" of terror emanating from Pakistan, Rao said she "stressed the importance of expeditious action by Pakistan on these issues, including by following up on the leads that have emerged following the arrest in the United States of David Coleman Headley and Tahawuur Hussain Rana."
At the talks, Rao handed over to Bashir three dossiers detailing activities against India by groups and individuals based in Pakistan. The dossiers contained 34 names of those involved in Mumbai attacks and perpetrators of other terror acts in India.
India demanded the handover of retired Army Major Iqbal besides Hafiz Saeed and some Lashkar operatives like Muzzamil, Abu Hamza, Abu Kahfa, Usman and Sajjid Mir in connection with the Mumbai terror attacks.
The other fugitives demanded by India were Indian Mujahideen chief Asif Raza Khan and its senior member Riaz Bhatkal.
Details of activities of Ilyas Kashmiri, a top terrorist linked to Al Qaeda leaders, and his threats against India were also enlisted in one of the dossiers.
India asked Pakistan to investigate the claim made by a hitherto unknown organisation, Lashkar-e-Toiba Al Almi and a separate claim by Ilyas Kahmiri owning responsibility for the recent Pune blast.
"We said it was the duty of the Government of Pakistan to take effective action to dismantle and put an end to the activities of all such organisations," Rao said.
Rao also raised India's concerns over rise in terrorist infiltration and ceasefire violations across the Line of Control and International Border. She pointed out that infiltration had gone up by 40 per cent in the last year.
Pakistan sought resumption of the composite dialogue that was halted by India in the wake of the Mumbai terror attacks but New Delhi disfavoured it, saying "the time is not right" and appropriate "climate" was required for it and that could be achieved through a "step-by-step" approach.
At the foreign secretary-level talks, India made known its dissatisfaction about Pakistan's handling of the Mumbai terror probe and wanted it to dismantle terror infrastructure there.  With regard to India's demand for action against Hafiz Saeed, Rao said Pakistan is of the view that there are no laws in that country to take action against him on the basis of his speeches.
At this, a dissatisfied Indian foreign secretary underlined that Pakistan has enough anti-terror laws under which action can be taken against the JuD chief.
Asked whether any CD related to Saeed's provocative speech of February 5 was handed over, she said there was no need as it was already in the public domain.
When Pakistan raised the Kashmir issue, Rao told the Pakistan foreign secretary that India believes in resolving all outstanding issues between the two countries through bilateral dialogue in "an atmosphere free of terror and violence".
"If we are to build upon the past discussions at an appropriate time, trust and confidence between us must be restored."
Rao also rejected Pakistan's allegations of Indian interference in Balochistan, saying New Delhi does not believe in destabilising any country.
On the water dispute, Rao underlined that the 1960 Indus Water Treaty was the adequate mechanism for resolving such issues.
Image: Foreign Secretary Nirupama Rao with her Pakistani counterpart Salman Bashir at Hyderabad House in New Delhi on Thursday | Photograph: B Mathur/Reuters