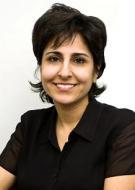 An Indian-American healthcare policy expert working for the White House is leaving her position to become the chief operating officer at an influential liberal political think tank in Washington DC.
Neera Tanden, formerly Hillary Clinton's chief policy adviser and the only Clinton higher-up to join the Obama campaign with Clinton's blessings, will fill the newly created COO position at the Center for American Progress, where she once worked as Senior Vice President for Academic Affairs. A main-stream think-tank, CAP is seen as fundamentally interlinked to the Democratic Party establishment.
The US political magazine The New Republic reports that it has reached an agreement with Tanden, and says that she will write for the magazine's website, www.tnr.com.
The move of Tanden, who has been working as a senior adviser to Health and Human Services Secretary Kathleen Sebelius, is another blow to the Obama government, battling to pass healthcare reform legislation, Tanden's area of expertise. But calling the timing of the move a 'coincidence', TNR reports that Tanden had been planning the move for awhile, and was not influenced to leave by the difficulty the administration has faced in advancing its health-care reform agenda.
Tanden, who was a longtime adviser to and reportedly a confidante of now Secretary of State Hillary Clinton, first joined the Obama team after he became the Democratic Party's presidential nominee, in the summer of 2008. After serving as Obama's domestic policy director for the general election campaign, she became the senior adviser for health reform under HHS Secretary Sebelius.
A graduate of the University of California - Los Angeles (UCLA) and Yale University's Law School, Tanden, who was born in the US state of Massachusetts, has previously worked for the Bill Clinton administration and the Democratic Congressional Campaign Committee. She first started working for the Clintons during the Clinton-Gore years, and later joined Hillary during the latter's US Senate campaign.
Citing her extensive policy experience -- particularly in the realm of health-care reform -- a CAP release says that in her new role Neera will be responsible for the think-tank's strategic planning and management.
"When CAP existed only on paper, Neera had a vision and great instincts for how a serious, idea-based institution could play an important role shaping the national debate and the policy that it yielded. Her early leadership helped lay the foundation for making CAP the strong institution it is today. But we are not standing still. We are thrilled to have Neera back on board, assuming a central management role, as American Progress enters the next phase of its continuing growth, maturity, and evolution," added John Podesta, President and CEO of CAP.