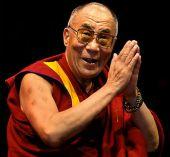 Tibetan spiritual leader Dalai Lama is in Washington for a meeting with President Barack Obama on Thursday during which the Tibetan spiritual leader would seek US help in resolving the Tibet issue, despite Chinese opposition to the meet.
The Tibet's exiled leader would also meet the Secretary of State Hillary Clinton, the State Department announced.

Terming it as an important meeting, the Dalai Lama's Special Envoy, Lodi Gyari, said the Tibetan leader would speak about Tibet, and as two Nobel Peace Prize laureates, he and the President are likely to discuss global concerns.
"His Holiness will be asking the President to help find a solution in resolving the Tibet issue that would be mutually beneficial to the Tibetan and Chinese people," Gyari said in a statement issued soon after the arrival of the Dalai Lama on Wednesday afternoon.
The Dalai Lama would also receive an award for his commitment to advancing the principles of democracy and human rights.
White House spokesman Robert Gibbs said the meeting would happen in the Map Room of the White House. "There will be an official photo released out of that," Gibbs said.

The visit comes despite Chinese opposition to it. China has urged the Obama Administration to cancel the meeting.

"Our relationship with China is diverse and there are a lot of issues. There's common ground. It's a complex relationship. There are areas where we agree on. There are areas where we disagree on," State Department Acting Deputy Spokesman Mark Toner said.

"We are going to continue to pursue that relationship vigorously, while at the same time recognising, for example, the Dalai Lama, that he's a respected cultural and religious figure and, as with past presidents, we intend to meet with him," Toner said.