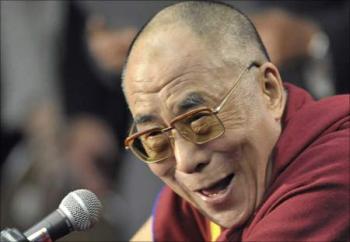 US President Barack Obama would meet Tibetan spiritual leader the Dalai Lama at the White House on February 18, notwithstanding warning from China that it could cause "further damage" to bilateral ties.

"The President looks forward to an engaging and constructive dialogue" with the Dalai on Thursday, White House Press Secretary Robert Gibbs said. This would be the first meeting between the Dalai Lama and Obama since the latter became the US President. However, Obama would hold talks with the Dalai in the Map Room and not in the Oval Office. Gibbs said no US President has met the Dalai in the Oval Office, where he usually meets visiting world leaders.

The announcement of the meeting between Obama and the 74-year-old Nobel laureate comes at a time when China has warned Washington that such a move could harm its ties with the US. In Beijing, Chinese Foreign Ministry spokesman Ma Zhaoxu asked the United States to immediately cancel Obama's plans to meet the Dalai. "We urge the US side to fully understand the high sensitivity of Tibet-related issues, honour its commitment to recognising Tibet as part of China and oppose Tibet's independence,' Ma said in a statement. The US should cancel the meeting "so as not to cause further damage to Sino-US relations, he said.
The February 18 meeting comes at a time when Sino-US relations have already soured over the sale of a US $ 6.4 billion package of American weapons to Taiwan, which Beijing views as a Chinese territory to be reunified by force if necessary. China accuses the Dalai of pursuing Tibetan independence, which the Dalai Lama denies. Obama has been under intense domestic pressure to meet the Dalai Lama after putting off a meeting with the Tibetan spiritual leader in October, prior to his first China visit.

The White House said the issue was discussed when Obama met his Chinese counterpart Hu Jintao in November 2009 in Beijing. "Just let me say to you that we told (the Chinese) President Hu in November in Beijing. The President (Obama) told him that, and the President discussed each of these issues: the Iranian sanctions, larger proliferation and currency," Gibbs had said last week.

The Dalai Lama is due in the United States on a 10-day trip later this month. He will be in Washington from February 17 to 19.