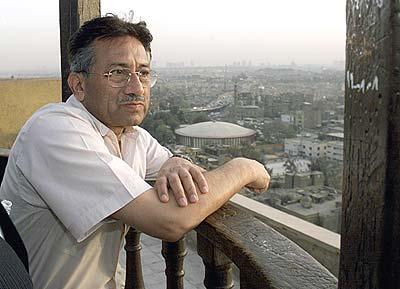 India and Pakistan, the subcontinent's "nuclear flashpoint," stand to gain much from peace, but were losing out because of the "confrontationist approach," former Pakistan president Pervez Musharraf said today.
Terming the Indo-Pak peace process "the most critical thing," Musharraf, whose tenure as Pakistan President saw major peace initiatives between the two nations, said peace was crucial both for bilateral and regional gains.
"India-Pakistan peace is required from international point of view because internally we are considered a nuclear flashpoint," he told CNN in its "Connect the World" programme.
 He said Indo-Pak peace process is important for the functioning of SAARC and for resolution of bilateral conflict.
"There is so much to gain bilaterally by both India and Pakistan through peace, and so much that we are losing because of this confrontationist approach," he said. Not too happy with the functioning of democracy in Pakistan, Musharraf said his country at the moment appeared to be failing as a political democracy.
"Politically Yes. We haven't succeeded. The politics in Pakistan, democracy in Pakistan has not really ever been very successful," he said. The former military ruler said, to be successful, it is expected of the democratically elected governments "to perform for the country".
"That the country should be moving forward progressing and the welfare and well-being of the people being addressed to. If that is not being done, I think we need to look into ourselves. What is it lacking in the democratic political dispensation in Pakistan," Musharraf said.
The report said the former Pakistan president has over 127,000 fans on his Facebook where he regularly answers questions and writes status updates. Musharraf said if Pakistan was not doing well, every patriotic Pakistani felt it in his heart.
"And I also do, that at this moment, Pakistan is not doing too well. So if I can contribute anything to the country and if the people of Pakistan want me to contribute, I certainly would like to look into that."
Asked whether the Afghan strategy of appealing to moderate Taliban will succeed, Musharraf said he had always advocated the triple strategy of military, political and socio-economic means. "I've been saying that we need to win away the population, especially of the pashtuns from the al Qaeda and Taliban. We must not all treat all pashtuns to be Taliban, although all Taliban were pashtuns," he said.
"Now, what they really mean by moderate Taliban, I really don't know. So we need to look into the pashtun, which is 50 per cent of Afghanistan, to draw the pashtuns from militancy." Answering a query, Musharraf said he always believed in the freedom of the media.
"I believe that while they should be free, they should be independent, they should be accountable also. Too, they must show responsibility."