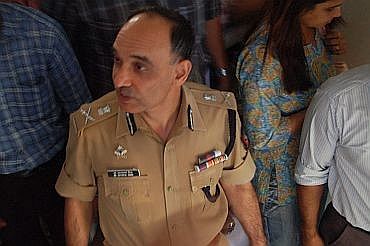 Pune Commissioner of Police Satyapal Singh's press conference on Sunday saw him invoke the national interest in asking the media not to speak the injured in Saturday's German Bakery blast, but that was not the only dramatic thing about it.
Mohsina (name changed to safeguard the investigations into the sensitive case be jeopardised. Rediff.com has Mohsina's real name, her contact details and photograph), a young freelance reporter working for various newspapers in the United States, including the Washington Post (her press card reads Georgia Post) told Satyapal Singh at a crowded press conference that she had called two police helpline numbers this morning to report about an 'unusual event' which she witnessed at the German Bakery on February 12, a day before the bomb blast.
The two helpline numbers, which Mohsina got from the internet, were of no help because when she called up, the person at the other end hung up, as he "could not understand her accent".
Mohisna is of Iranian descent, born in India but brought up in the US. She stays with her cousin at Koregaon Park's lane 5.
"Normally, in such terror attacks, one expects the police to publish some hotline numbers where those who have information about such attacks could call and help the police. But why didn't the Pune police do it?" she asked in frustration as she felt she could help the police sketch the image of the possible suspect.
When she pointed this out to Dr Singh, he gave out three numbers (020 26126296, 020 26122880, 020 26125396) and said that those who have any information about the attack can call the police.
Later, when rediff.com asked Dr Singh if he will seek Mohsina's help to get her help or wait for her to call him -- she was present for quite some time after the press conference got over -- he said he had given her his number and expected her to call him.
"Perhaps the person who I think could possibly be the bomb planter may not turn out to be so. But one thing is sure, that the person looked suspicious and I can assure you that he was quite at sea at the bakery for he did not even know if waiters served there at the table or if it was a self-help joint," says Mohsina.
Apparently, Mohsina, who's a frequent visitor at German Bakery, saw a dark and short man of Indian origin at around 2.30 pm on February 12, who spoke with a thick Indian accent, and who inadvertently hit Mohsina with his beige coloured bag (Dr Singh had earlier told the media persons that the bag that contained the bomb was bluish-red in colour) and said sorry.
"Later, he kept his bag on the seat opposite mine but sat someplace else, which was very unusual," recalls Mohsina.
"Normally, a person keeps his baggage close to him or near or under his table, but not this guy," she added.
This suspicious person also asked Mohsina if she knew of any decent guest house in the area where he could find lodgings.
Interestingly, Mohsina again ran into the same person the same evening at around 7 pm at German Bakery, with his bag in tow, making her believe that he was still looking for a hotel.
"Isn't it strange that somebody couldn't find a hotel to stay in about four and a half hours in a city like Pune, with just one bag on him?" asks Mohsina.
Dr Satyapal Singh, who hit out at the media for talking to eyewitnesses recuperating at various hospitals in Pune and thereby jeopardising police's investigations ("If somebody tries it out he or she will face it," was the commissioner's stern warning) did not show any urgency in seeking Mohsina's help in getting the sketch of the person.
"It seems he is in no urgency to get the sketches done. He told me that he will call me later for the sketches," Mohsina says with some astonishment. (Press Trust of India reports that the Pune police is preparing a sketch of the blast suspect on the basis of eyewitness accounts). 
For more on the Pune blast, click here!
Image: Pune Police Commissioner Dr Satyapal Singh after the press conference on Sunday | Photograph: Rohan Jagan