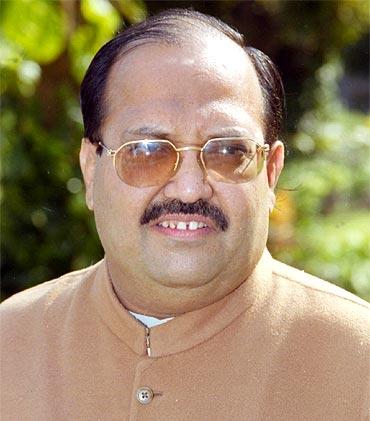 After being expelled by the Samajwadi Party, Amar Singh on Wednesday praised the Congress and ruled out joining the Bahujan Samajwadi Party.
But he suggested that he could do business with the Mayawati-led party on issues like trifurcation of Uttar Pradesh.
As regards the Congress, Singh struck a conciliatory note. He said that though the "family" was important there, it was different from other parties which are run by political families including the SP.
"There is a difference (between two parties). In the Congress Rahul Gandhi talks of internal party democracy. The party holds polls, there is a war room to tackle situations, there is a core committee to take decisions.
"It is not where the party president says something and the next day the exact opposite of what he had said happens. This gives out a bad image of party because it affects political credibility of the party," Singh told PTI in an interview.
He, however, hastened to add that he was not "cosying up to Congress".
Not a child seeking admission in nursery
At the same time, the 54-year-old leader made it clear that he was not a child seeking admission in nursery when asked whether he would apply for entry into the Congress which till recently was his favourite punching bag.
Singh, a former AICC member, however, made it clear that his DNA was not anti-Congress, he has many personal friends in Congress.
"I am a man with many alternatives. I will explore other alternatives... Let me taste water, let me see whether I am a rootless wonder or a wonder with roots," Singh said.
"Politics... is a game to remain relevant. If I am relevant then people will look at me. If not they will not, like Lalu Prasad Yadav after recent Lok Sabha elections. Lot depends upon my existing relevance," he said.
Replying to a question about BSP, he said, "There was no question of going to BSP ever."
Will meet Mayawati, if needed
He, however, suggested that he could meet BSP leader and Uttar Pradesh Chief Minister Mayawati if there is a need of the hour to press the demand for carving out smaller states from Uttar Pradesh.
"Such a meeting will, however, not be for seeking political placement in BSP," Singh said.
The expelled leader, who was now being targeted by the Samajwadi Party as an alleged fixer-operator, hit back at his former party saying that by levelling such allegations they were only attacking party chief Mulayam Singh Yadav, whose close associate he was for 14 years.
"My advice to them is that silence is golden. You chill and let me also chill," he said, telling his former party that "I have decided to be history. They have not made me history".
Singh said though he felt "relieved" after being expelled from the party and that his "umbilical cord had been cut", he thanked his former party colleague Ram Gopal Yadav for taking his side in opposing entry of criminal elements in SP.
"Ram Gopal Yadav was very much vociferous in supporting me against criminal elements in the party. He is my bitterest critic today. But I especially thank him and gratefully acknowledge his valued support to me for stopping criminalisation within the party," Singh said.
No personal interests
Singh, who has been attacking the SP over several issues including criminalisation of politics, dismissed charges that he used the party support to the UPA-I government for furthering his "own interests".
He said the only deal he tried to strike with UPA government in 2008 was for "exonerating" Mulayam Singh Yadav from the disproportionate assets case.
"I did not make any deal but only asked for one favour from the UPA government and that was exoneration of SP leader Mulayam Singh Yadav from the disproportionate assets case," he said.
Lok Manch an umbrella orgnisation 
Singh said he has plans to turn his organisation Lok Manch into an "umbrella" of several political and non-political groups.
"I am not ruling out politics because if there is pressure from my followers then who knows what is in store for me in future," he said.
The former SP leader, however, said, "As far as my political relevance is concerned I am not bothered about it. My priority is not political relevance. I have seen its crudity in the most naked form. It has left a bitter taste in my mouth."
The expelled leader also claimed that the "entire family" of Mulayam Singh Yadav except Mulayam and the late Janeshwar Mishra "forced me to save" the UPA-I government.