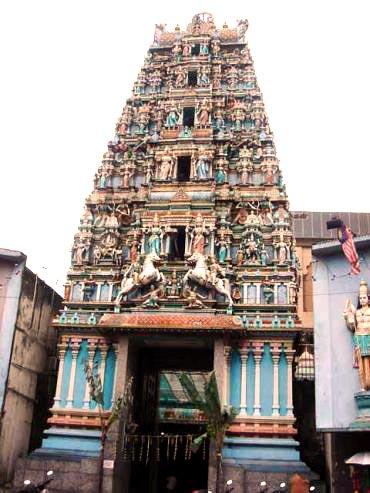 Malaysia's oldest Hindu temple, the Sri Maha Mariamman temple, is now on a postage stamp.
The 137-year-old temple will be the first Hindu temple to be portrayed on the country's stamp. 
Malaysian Indian Congress President S Samy Vellu launched the stamp on Sunday to mark the temple's sixth consecration ceremony -- done once in 12 years to re-energise the temple's powers -- on Thursday.
The Sri Maha Mariamman temple was founded in 1873 near the Kuala Lumpur railway station and was shifted to its present location inJuan Tun Lee two years later.
The temple has 242 sculpted idols on its gopuram, the temple's gateway, that was built in 1972. The temple's chief deity is goddess Sri Maha Mariamman, a manifestation of goddess Parvati.  
Image: The gopuram of Sri Maha Mariamman temple in Malaysia