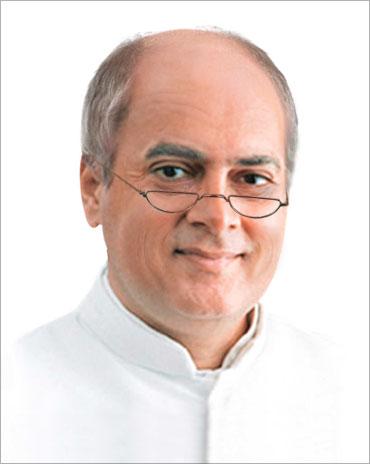 Rajiv Gandhi would have turned 66 on Friday.
Uday Kuckian conjures up an image of what the former prime minister would look like today if he had not been tragically assassinated 19 years ago.
When he became prime minister of the world's largest democracy at the breathtakingly young age of 40, he was toasted for his boyish good looks and easy charm -- apart from the biggest parliamentary majority ever commanded by an Indian leader.
Six-and-a-half years later, when he was tragically assassinated, the nation mourned not only the loss of a popular leader but also the passing away of the whiff of youth from Indian politics.
What if, is a question tantalisingly poised over Rajiv Gandhi.
What if he had not been cut down so violently in full bloom?
What if he had returned as prime minister for a second term?
What if...
The present, they say, is a path from the past that is paved with what ifs.
So we felt impelled to ask ourselves, what if he had survived May 21, 1991?
He would have turned 66 on Friday, yes, but what would he have looked like?
Our ace designer Uday Kuckian worked on Rajiv Gandhi's image on PhotoShop, keeping in mind images of both his father Feroze Gandhi and grandfather Jawaharlal Nehru.
Also the fact that the young Rajiv was the first to usher in the era of brands like Gucci and style in Indian politics -- so the stylish half-moon glasses perched daintily on the bridge of his Nehruvian nose.
Needless to say, we have done this in a spirit of extreme fondness for someone who had so much more to give if only an assassin had not cut down a life of such brilliant promise, and we hope you like what you see.