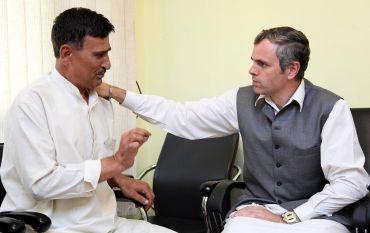 Jammu and Kashmir Chief Minister Omar Abdullah has pardoned the policeman who hurled a shoe at him during the Independence Day celebrations on Sunday.
Omar called Abdul Ahad Jan, the suspended head constable of the state police, to his residence in Srinagar on Tuesday afternoon and told him that he had pardoned him in spirit of the holy month of Ramadan.
While ordering his release, Omar also told the police to withdraw the case against him.
Omar said, "The holy month of Ramzan teaches us to be compassionate and to forgive everyone. My steps are in conformity with the teachings of Islam which does not teach hatred but only love and brotherhood."
An official spokesman here said, 'Ahad Jan was overwhelmed with the chief minister's gesture and was in tears and thanked Omar Abdullah."
Image: Jammu and Kashmir Chief Minister Omar Abdullah with Abdul Ahad Jan at his residence | Photograph: Umar Ganai