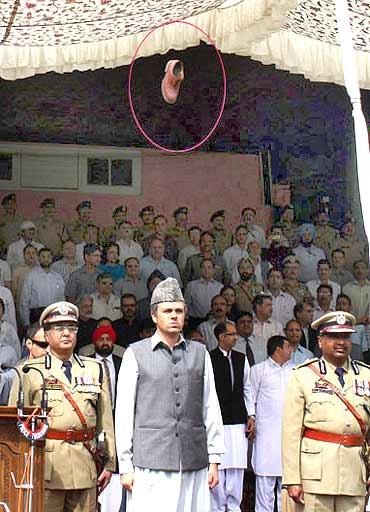 Jammu and Kashmir chief minister, Omar Abdullah had to face an embarrassing situation during the Independence Day parade in Srinagar, when a local cop hurled a shoe at him. Head constable Abdul Ahad Jan hurled his shoe as the chief minister was unfurling the tri-colour in the Bakshi stadium where the main Independence Day function was being held on Sunday morning.
The shoe, however, missed the chief minister who later took the salute at the parade. Jan also waved a black flag and shouted pro-freedom slogans at the venue.
The personnel of the special security group (SSG) guarding the chief minister later over-powered the cop and whisked him away from the venue. A cop of the SSG was later seen hiding the shoe under the dais. Jan was seated in the VIP enclosure among the top civilian and police officers of the state where the entry is strictly by invitation.
A senior police officer said Jan had been suspended last month and was not mentally sound. He also said that a criminal case was already pending against him. The function passed off peacefully as the chief minister in a lighter vein later said, "It is better that people throw shoes instead of stones as that would not hurt anyone.
Image:  A shoe being hurled at J&K CM Omar Abdullah at the Independence Day function at Srinagar.
Photograph: Umar Ganie