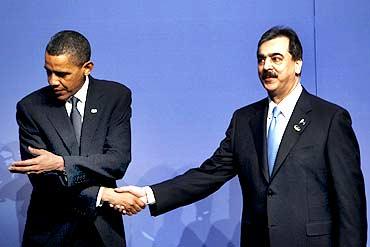 United States President Barack Obama has assured Pakistan Prime Minister Yousuf Raza Gilani that Washington has no plans to control Islamabad's nuclear programme.
Obama met Gilani on the sidelines of the two-day nuclear security summit in Washington, DC, and expressed confidence over steps taken by Pakistan to safeguard its nuclear establishments from the impending threat from terror organisations like the Taliban and the Al Qaeda.
"I feel confident that Pakistan has secured its nuclear weapons. I am concerned about nuclear security all around the world, not just in Pakistan but everywhere," The Dawn quoted Obama, as saying.
Briefing mediapersons about the meeting, Pakistan Foreign Minister Shah Mehmood Qureshi said Obama assured that the US has no plans of harming Pakistan's nuclear programmes.
"Have no fear, we have no sinister designs," Qureshi quoted Obama, as saying.
Incidentally, when Gilani was assuring Obama about actions taken by his country to secure its nuclear arsenals, a report in the New York Times claimed that Pakistan has completed its second plutonium production reactor at Khushab.
The newspaper reported that President Obama used his meeting with Prime Minister Gilani to 'express disappointment' that Pakistan was blocking the opening of negotiations on a treaty that would halt production of new nuclear material around the world.
When asked about the reactor, which is expected to add to Pakistan's production of nuclear fuel, Islamabad's envoy to Washington, Hussain Haqqani, said, "Pakistan looks forward to working with the international community to find the balance between our national security and our contributions to international non-proliferation efforts."
Image: US President Barack Obama welcomes Pakistan's Prime Minister Yusuf Raza Gilani to the Nuclear Security Summit in Washington, DC, on Monday
Photograph: Jim Young / Reuters